Deiana's R.A.W. Training, Somers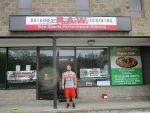 Somers resident Matt Deiana knows firsthand the importance of sports training.
Deiana was a star athlete. He excelled in football and lacrosse at Somers High School, playing five years for the varsity teams of both sports because he started on the teams as an eighth-grade student. He was a linebacker and running back in football and midfielder in lacrosse. In football, he played in the All American Game, received All State and All Section honors and was named Player of the Year by several local newspapers. He received All Section and All League honors for lacrosse.
Deiana continued his athletic career first at the University of Connecticut before transferring to William Patterson University in Wayne and Patterson, New Jersey, where he was a running back on the varsity football team. Following graduation, he tried out for the New York Giants. He played pro football in Germany last year. His pro career came to an end because he tore a triceps muscle. "I played hurt, which was frustrating, but it was a good experience," he said.
While he is no longer a professional athlete, sport training is still an important part of his life. Deiana opened Deiana's R. A. W. Training on Lovell Street in Somers on April 1 after operating the business out of his basement for about six years.
Deiana explained last week how he came up with the name of his business. "A long time ago I was hanging around with a bunch of friends, I had been training people for a while, and we wanted to make a social media account and Web sites," he recalled.
Rather than use his last name, Deiana and his friends came up with R.A.W., which stands for "relentless, athletic warriors. "And it just stuck. Everybody liked it, so I've just kept it," he said.
Deiana began receiving training from his father, Steve, when he was 11. His father has also trained the Somers High School football and lacrosse teams, even though he is not a professional trainer, Deiana said "I just enjoyed it and I decided it was what I wanted to do," he said.
Much of the training equipment he uses in his new business came from his basement, Deiana said.
Most of his work is training middle school, high schools and college athletes for all sports. both male and female all year round, Deiana said. He also does some adult training.
Deiana also assists people with illness with "an advance rehab" pulsing machine in which "you just sit on it and you feel vibrations." He began using it in college, where he had many sports injuries, Deiana said. "I like to focus on people's injuries."
Deiana said athletes can prevent some injuries. He will watch the way a person walks and see if the body is functioning properly. Deiana said he strives to have his clients bodies function "at the best level they can."
Deiana's R.A.W. Training is located at 1 Lovell St. in Somers. For more information, call 914-804-1675 or send an e-mail to matt@deianasrawtraining.com. The business is also on Facebook and Instagram.