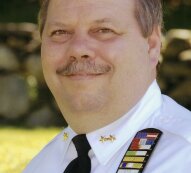 David P. Parsons, a Peekskill resident, died Sept. 14. He was 68.
He was born May 19, 1953, to Robert and Anne (Anderson) Parsons in Manhattan. He grew up in Peekskill and graduated from Peekskill High School in 1972. After high school, he joined the U.S. Army in July 1974, where he was stationed at Fort Campbell, Ky. as a proud member of the 101st Airborne Division. He was honorably discharged from the Army National Guard in 1980. During his service in the Army, he married the love of his life, Jane (Wilson), in November 1974 and had three children – Tammie, Kristy and David Jr.
After leaving the Army, he worked as a supervisor for Reader's Digest in Chappaqua and took early retirement to pursue his developing passion in the emergency medical services. He was an EMT-I and was a life member of the Peekskill Community Volunteer Ambulance Corps, where he served as ex-chief (then known as captain) from 1988 to 1992. He had also served as chief of the Harrison Volunteer Ambulance Corps. Additionally, he taught numerous EMT-B, CPR and first aid courses throughout Westchester and Putnam counties and was a member of the Westchester County Crisis Intervention Team.
He was predeceased by his parents, Robert and Anne Parsons, sister Constance (Cahill) Jessup and his niece, Kim Jessup. He is survived by his wife, Jane, of Peekskill; his children, Tammie (Rob Shurak II), Kristy and David Jr., all of Peekskill; his three grandchildren, Andrew Parsons, Jacob Shurak and Jenna Shurak, all of Peekskill; his sister, Sharon (Kenneth) Thacke, of Ossining; his brother, Robert Parsons, of Ridgefield, Conn.; his brothers-in-law, William Jessup of Yorktown Heights, Charles Wilson (Barbara) of Naples, Fla. and Edward Wilson (Barbara) of Stormville, N.Y.; his sister-in-law, Deborah Parsons-Burckhard; and nieces and nephews Kevin Jessup, Danielle Thacke-Brower, Jennifer Robinson, Michelle Parsons, Katie Wilson, Karen Thacke, Kelly Parsons, Matthew Wilson and Emily Wilson.