Dave & Buster's Opens New Sports Bar and Game Complex
We are part of The Trust Project
A spacious Dave & Buster's food and entertainment center opened last week at Post Road Plaza, a shopping mall in Pelham Manor. The complex is located directly behind the mall's Fairway Market.
Occupying 39,500 square-feet, the new facility has two American fare dining rooms, an arcade-style game center, a sports bar and a three-table billiards room for use on a first-come, first-served basis. It can accommodate private events for up to 1,200.
Both dining rooms serve the same menus and have wait staff service, but one has hostess-seating service for 88 while the other requires patrons to seat themselves and has a capacity of 160.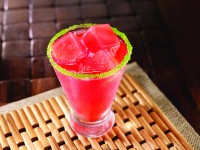 The game center contains 170 skill-challenging games. Plastic card tickets purchased at the reception desk track the scoring of points electronically. Accumulated points can be redeemed at the Winners' Circle for Apple products, Xbox games, sports memorabilia, t-shirts, stuffed animals, electric guitars and other merchandise.
Most of the games are high-tech but basketball players can earn points by shooting hoops. Games include Transformers Human Alliance, Mach Storm and Kung Fu Panda Dojo Mojo.
With the simultaneous opening by Dave & Buster's in Pelham Manor and another in Euless, Tex., the chain increases its establishments to 75.
The dishes at Dave & Buster's in Pelham Manor range from tasty comfort items to 12-ounce New York steaks, "Surf & Turf" (bacon-wrapped sirloin medallions with grilled shrimp) and shrimp and lobster Alfredo.
There is a wide variety of drinks, including beer and other alcoholic beverages, milk shakes, lemonade, juices, soft drinks and Red Bull energy drinks. There are free refills for fountain sodas, coffee and tea.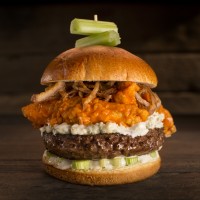 Innovative burgers are a big draw at Dave & Buster's. The menu also includes sandwiches, pretzel dogs, barbecued ribs, grilled mango-citrus Cajun shrimp on skewers, pasta, barbecued chicken and mac and cheese with chicken and bacon. The Mountain O' Nachos is very popular as a snack or appetizer. A children's menu is also available.
The parent company is introducing two new burgers at this time. One is a half-pounder called the Maker's Mark BBQ Burger." Priced at $12.79, it comes piled high with smoky Ancho pulled pork and caramelized onions topped with two slices of American cheese. Smothered with the house's own Maker's Mark tangy bourbon sauce, the burger is served with lettuce, tomato, onions and pickles on a toasted brioche bun.
Also newly introduced is a half-pound, buffalo wing burger. Its crispy chicken tenders are accompanied by bleu cheese, frizzled onion strings and celery ($12.29).
Among the favorites on the Legendary Burger menu are the South Philly Steak Burger with thinly sliced steak ($12.99), and Dave's Double Cheeseburger with double meat and double cheese on a toasted brioche bun and French fries ($11.79). This is probably the best selling of all of Dave & Buster's burgers.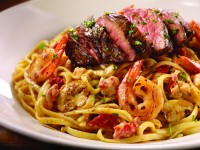 Salads are plentiful and include chopped Thai chicken ($10.29), Caesar with chicken ($9.99), sweet apple pecan with chicken ($10.99) and "The Lawnmower," a medley of chicken, garden vegetables, boiled eggs, Romaine and green lettuce, bacon bits and bleu cheese crumbles ($12.99).
Desserts abound and include chocolate fondue, cheesecake, chocolate cake and the Brookie Sundae Tower — a warm, gooey combination of a giant chocolate brownie and a chocolate chip cookie topped with vanilla ice cream and chocolate and caramel sauces ($8.79).
Happy Hour runs from 4:30 to 7 p.m. and returns from 10 p.m. to closing at the bar with a 50 percent discount for cocktails. However, the discount offer is not extended to Dave & Buster's signature-cocktail version of Long Island Iced Tea, called "D&B TNTea."
"Anyone who finishes drinking a D&B TNTea can take the glass home as a souvenir," said special events manager Beatriz Peneda.
This classic drink is a blend of Absolute vodka, Tanqueray gin, Bacardi Superior rum, Grand Marnie and Coca-Cola.
Cocktails include the Original CoronaRita and the Miami Ice Snow Cone, one of a variety of snow cones, and a strawberry watermelon margarita made with strawberry-flavored ice cubes.
The Original CoronaRita has seven ounces of Corona made with Sauza Blue 100 percent blue agave tequila, DeKuyper Triple Sec and a squeeze of lime. The Miami Ice Snow Cone combines coconut vodka, coconut rum and lemonade with strawberry Bacardi premium mixer.
For munchers, a package deal called The 5:15 is offered. Priced at $19.99, it consists of five Buffalo wings, five quesadilla wedges, five pretzel dogs, five crispy fried shrimp and a stack of potato chips.
General manager Danny Eurell is still hiring; the completed staff is expected to exceed 300. Hours of operation are 11 a.m. to midnight seven days a week.
Dave & Buster's is located in the Post Road Plaza off of Boston Post Road (Route 1). The address is 881 Pelham Parkway in Pelham Manor, a short distance from Exit 7 off the Hutchison River Parkway. There is free parking. For more information, call 914-380-8500.