Cynell Brown Arraigned on Charge of Murder in Tarrytown Court
We are part of The Trust Project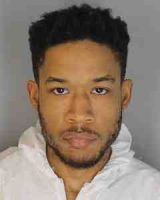 Cynell Brown (DOB 1/13/1990) was arraigned in the Village of Tarrytown Justice Court Feb. 28 on a charge of Murder in the 2nd Degree, an A-1 felony, in connection with the shooting death of 34-year-old Jessica Wiltse in her Tarrytown home Tuesday, Feb. 27.
Brown was arrested in New York City at the Port Authority Bus Terminal Tuesday evening after an all-day manhunt that crossed Westchester County and caused several schools to go on lockout or send students home early because the suspect was believed to be armed.
During an afternoon press conference Tarrytown Police Chief John Barbelet said the shooting was a domestic incident and that a gun was later found in a garbage can.
The victim resided where she was found at the Sleepy Hollow Gardens apartment complex on Route 119 in Tarrytown.
Port Authority Police PBA announced on Twitter Tuesday evening that they had apprehended the suspect while he was in line at the Port Authority Bus Station in Manhattan to purchase Greyhound tickets to Wilmington, Delaware. He was spotted by officers just before 7 p.m. who said he was traveling with a woman reported to be his aunt and her child. He was unarmed at the time.
Brown was taken into custody at the Port Authority Bus Terminal and was held until Tarrytown police arrived.
Brown has no permanent address.