Cunningham, Griffin Wagner Win in Pleasantville
We are part of The Trust Project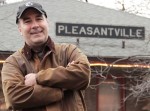 Colleen Griffin Wagner is the newest member of the Pleasantville Village Board.
Wagner was elected in her first try for the seat and Jonathan Cunningham won re-election for a fourth term Tuesday night, both finishing in front of incumbent Stephen Lopez in the race for two seats. Mayor Peter Scherer was re-elected to a second term as an uncontested candidate.
Cunningham earned 515 votes while Wagner received 383 votes. Lopez, bidding for re-election for the first time, finished third with 297 votes. Kevin Martin, who ran as a write-in candidate after he had his petition thrown out last month by the board of elections, picked up 119 votes followed by George Dolce with 101.
"I am very excited to get started and of the prospect of working on what I talked about," Wagner said. "The board has done a wonderful job. I hope I can enhance the good job they do."
Cunningham said the results were bittersweet with Lopez losing, but he looked forward to working with Wagner.
"It feels good," Cunningham said of his showing. "I can't deny that. The vote reflects the hard work I've done and the hard work the board has done."
Wagner said her first priority is to bring a recreation center to Pleasantville, which has been without one since Library Hall closed in 2007. The village has explored converting the old ambulance corps building on Marble Avenue into a recreation center, although estimates have been higher than expected.
Despite the defeat, Martin said he was encouraged by the totals.
"I want to thank everyone who supported me," said Martin, who did not rule out running again. "I am happy with the outcome. I can't say anything bad. It was a good run."
Dolce said the campaign was a good experience and that the village is in good hands.
"The candidates are all very good and are committed to this," Dolce said. "I don't have a problem with the results."
Scherer said he looked forward to working with Wagner and continuing to work with Cunningham.
"I am delighted," Scherer said. "Colleen has a long history with the village. I am happy to have Jonathan back. I am sorry to see Steve go. He spent three long years on the board. We will have the opportunity to say thank you to him."
Scherer said the board will continue to work on the 2012-13 budget to stay within the tax cap and is hoping to see further economic development in the village.