Creative Flowers By Amodio's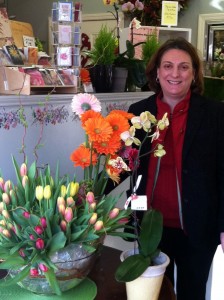 Catherine Amodio says "Flowers are the gift of emotion." They are used to express love, friendship, joy, sympathy, even support for someone who may be feeling anxious. For each gift given, the expression is unique. As such, Amodio believes each bouquet and floral arrangement she creates should be unique as well.
The flower shop at 481 Mamaroneck Avenue in White Plains is part of a larger business owned by Catherine and her two siblings Mary Ann and James Amodio, who run a landscaping and nursery business a little further down the road at 1160 Mamaroneck Avenue. Their brother, Frank Amodio, does a lot of the growing up north and supplies the potted and flowering plants to the business.
While Amodio went to college to study music and education – she has taught elementary school – she claims her love for flowers began when she was a child. "I was 11 years old when my parents bought the nursery from my grandparents," she explains. "It was in 1939 that my grandparents started the business. My grandfather was a landscaper and my grandmother grew flowers, which she cut and sold to people inWhite Plains. Her specialty was the snap dragon."
Over the years as the family business grew, Amodio learned from the various designers who came to work for the family. Then the opportunity came up for Amodio to open her own shop. "I've been in the business for 34 years now and every day feels just like the first," she says. "I believe that creativity is spontaneous. I am always looking at things and getting ideas. I see something I like and immediately I want to take the concept back to the shop."
Creative Flowers has been at the current location for the past five years. Before that, the shop was located closer toWhite Plains' center for 20 years and there was another period of time when the shop was housed within the larger garden center down the road.
Amodio says she is surprised by the number of people who just stop by to see what she has to offer. "I have many regular customers," she asserts, and there is a working relationship between the flower shop and McMahon's Funeral Home next door, so she is always busy. "If you think about it, flowers are used to mark many events in the life of a family," Amodio remarks. "From births, to graduations, to weddings, we see families grow up."
Upon entering the shop, housed in a small gingerbread-style building, one is met with the scent of flowers and a selection of hybrid orchids, each set in an individually selected pot. Amodio says orchids are very popular at the moment and the new hybrids are producing smaller plants in a variation of colors. "The hybrids are easier to display indoors," Amodio explains, and the different colors can be used to accentuate what's already in the home.
One of the services Amodio offers is help in home or office decoration. "People come in looking for advice," she says. "I often make a site visit to determine the technical conditions, such as lighting. We then select plants for specific locations where they will thrive."
Amodio loves fresh flowers, especially anything that sprouts from a bulb. She calls theseHollandflowers. "They are bright and colorful and feel like spring," she says. There is a colorful collection of tulips and Gerber daisies on display in a second room that features many types of cut flowers as well as Godiva chocolates and cuddly stuffed animals, appropriate for combining with any gift of flowers.
Creative Flowers by Amodio's is a beautiful place to be even in the dead of winter, but when spring arrives in March, the shop comes alive with an abundance of plants. Amodio specializes in container planting and this year's spring offerings will include plants to keep both indoors and out. There is a new outdoor display area where new varieties can be viewed.
To view some of Amodio's unique creations visit creativeflowersbyamodio.com. The site was designed by Amodio herself and features floral arrangements you will not find online anywhere else. The shop can also be reached by calling (914) 949-2444.