County Legislators Urged to Maintain Non-Profits' Funding in 2017 Budget
We are part of The Trust Project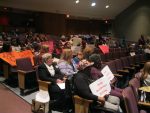 Dozens of speakers last week urged the Westchester County Board of Legislators to properly fund various nonprofit organizations that would benefit children in the 2017 budget.
Many in attendance at the Nov. 30 public hearing at Armonk's H.C. Crittenden Middle School held signs saying "Day Care Not Welfare" and "Keep Parents Earning, Keep Children Learning."
County Executive Rob Astorino's $1.81 billion operating budget proposes no tax increase for the seventh consecutive year and maintains jobs and services at current levels, including funding for nonprofits, but relies on a recently proposed airport lease deal to balance the spending plan.
At the hearing, some called on lawmakers to increase appropriations by 5 percent next year for certain organizations while others wanted to ensure the county doesn't slash funding.
Neil Sandler, president of the board of directors of Westchester Jewish Community Services (WJCS), thanked the county executive for maintaining funding for WJCS services at the same level as last year and held the other nonprofits harmless. Some of its programs include mental health services and home care and youth programs.
He said the organizations and the populations they serve rely on county funding.
We are grateful that the County Executive's budget has kept funding for WJCS services at the same level as last year and has held the other non-profits "harmless" – our organizations, and the people we serve, rely on this funding…We respectfully ask that you keep the funding for WJCS services in the budget whole – including funding for child victims of sexual abuse, vocational services for people with disabilities and after school programming for youth and early literacy services for families," Sandler said.
Pleasantville resident Janice Lubin Kirschner said WJCS assisted 8,000 students last year through its afterschool program.
"Thank you for your support," she told the board.
Noelle Damico, co-chair of the Westchester Women's Agenda, was one of the speakers who appealed to lawmakers to increase spending for nonprofits by 5 percent next year. One of the organization's tasks is providing safe and affordable child care, which helps to keep parents working rather and boosts the local economy, she said.
But Damico said additional revenue for the nonprofits should not be dependent on Astorino's proposal to lease the county airport.
Last month, Astorino released details of a proposed 40-year, $140 million lease with Oaktree Capital Management, which would operate the airport and make improvements to the facility. Terms of the lease call for a one-time upfront payment of $15 million to the county next year, followed by $4 million annual payments for the next four years, he said.
It has been a controversial proposal because some lawmakers believe that Astorino should have issued a Request for Proposal. There also may not be enough time to vet the deal.
One speaker, John Montilione, said he did not see any value in the county leasing the airport and there is insufficient time for legislators to launch an adequate review of the proposal.
But most residents pressed lawmakers for funding for child care programs, such as the Mount Kisco Child Care Center (MKCCC). Parent David Grief said the center allowed him and his wife to commute to New York City each day knowing their child was being well cared for. Effective child care provides parents with a sense of security, he said.
Dr. Hillary Harrison, a member of MKCCC's board of directors, said child care is important for the development of young children.
"The children of today are the adults of the future," she said.
Dawn Meyerski, the center's executive director, urged legislators to provide the funding that would allow parents to keep their children in day care.
"Child care is expensive," she said.
The Board of Legislators is scheduled to propose changes on Monday, in advance of the third and final public hearing on Wednesday evening at 7 p.m. at the county office building in White Plains. A final budget must be adopted by Dec. 27.