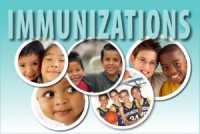 Summer is a great time for parents to prepare for their children's next school year without feeling pressured. Westchester County Health Commissioner Sherlita Amler, MD, would like parents to place immunizations at the top of their summer to-do lists, along with summer reading lists and back-to-school shopping.
New regulations for school admissions require schools to more closely scrutinize children's immunization records and could result in a child not being allowed to start or continue in school if immunizations are not current. These updated regulations provide increased protection against illnesses like whooping cough that have been reported in school aged children in Westchester, as well as measles and mumps, which have had recent outbreaks in nearby New York City.
The Westchester County Health Department will offer free immunizations by appointment during special back to school clinics for children ages twelve months through 18 years, who are uninsured or whose insurance doesn't cover immunizations.
During these clinics, Health Navigators will be on hand to help parents and guardians sign their children up for the health insurance they need. Families without a regular doctor also will receive information about where to go for ongoing pediatric primary care.
Appointments will be made on a first-come, first-serve basis. To schedule an appointment for school vaccines at the health department clinic in White Plains at 134 Court Street, call 914-995-5800. The dates are as follows:
Friday, July 18, 10 a.m. – 12 p.m.; Friday, July 25, 1 p.m.- 3 p.m.; Thursday, July 31, 4 p.m. – 6 p.m.; Thursday, Aug. 21, 9 a.m. -12 p.m. and 1 p.m. – 3 p.m.; Tuesday, Aug. 26, 1 p.m. – 3 p.m.; Wednesday, Sept. 3, 1 p.m. – 6 p.m.; Tuesday, Sept. 9, 11 a.m. – 3 p.m.; and Tuesday, Sept. 23, 1 p.m. – 3 p.m.
For more information visit www.westchestergov.com/health.