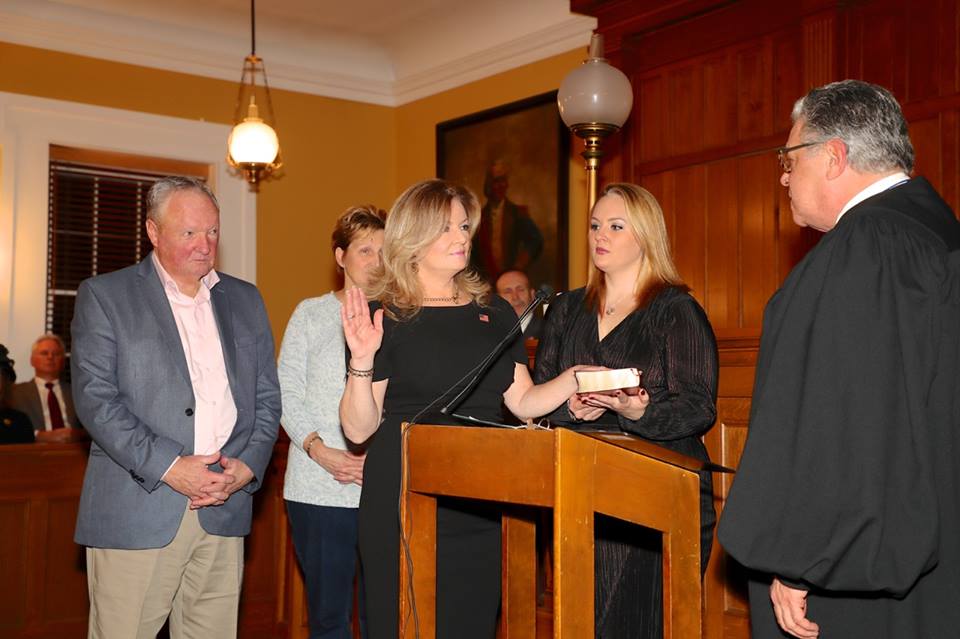 For the final time as Putnam County Executive, MaryEllen Odell was sworn into office on New Year's Eve as she began her last four-year term in office.
With her left hand on a Bible, right hand held high and surrounded by her family, including her father Ron Hicks and daughter Hope, Odell took the oath of office with the help of NYS Supreme Court Justice Lewis Lubell. Odell, a Republican who has served in office for seven years, easily defeated Democrat Maureen Fleming last November to retain her rule over the county.
Odell, along with another nine elected officials, said she shared the honor of being sworn in with so many other people that have made public service a "commitment and way of life."
"And it is difficult and it is challenging but it is oh so very rewarding at the same time," Odell said.
She vowed to continue to work hard for every taxpayer in the county, including seniors, veterans and those residents fighting drug addiction. She mentioned with the possible legalization of recreational marijuana looming in New York State, it would be a challenge for families and healthcare providers that have been trying to reverse the course of drug addiction that can turn deadly.
Odell also hinted at the development of a "Putnam County Playbook" which would be a "living document" and chart the county's course for the next two decades.
"We look forward to building on our accomplishments, our economy, our infrastructure projects and bringing together ideas that will carry us forward," Odell said.
Another countywide official that was sworn in besides Odell was Michael Bartolotti, who has served as county clerk for the past four years. The Republican ran uncontested this year and was sworn in by Patterson Justice Anthony Mole with his wife by his side.
Bartolotti, who couldn't hide an ear-to- ear grin after the oath was administered, thanked the residents of Putnam who put their faith in him to serve another term in office. He called the clerk's office the "face of government" because of the personal interactions residents have with staff.
He looked forward to hosting more naturalization ceremonies where new citizens are sworn in at the Historic County Courthouse and vowed to work to find more ways to make the office more efficient and accessible.
"I absolutely love this job, I love working in the county clerk's office," Bartolotti said. "We take care of business, we make sure people get what they need to get."
The final and least assuming countywide official that was celebrated as he began another term was Dr. Michael Nesheiwat, who is one of the three elected county coroners. For Nesheiwat, the swearing-in was unique because he missed his previous chance to take his oath of office in front of an audience four years ago. Southeast resident Patrick Perry, who was at the swearing in ceremony four years ago, became very ill and had to be taken to the hospital right away. Nesheiwat, who is also the acting health commissioner, assisted in getting Perry to the hospital and making sure he was OK, but missed his swearing-in.
This time, Nesheiwat was sworn in by his good friend, county Judge James Reitz.
During his speech that ended the night, he took the time to speak fondly of his wife and two children. His daughter Sara recently graduated from RPI and will begin her studies in medical school this spring and his son Michael is in last year at the University of Miami and is a pre-med student.
"We are very, very proud of you," he told his two children. "Mom and dad are so proud of you. I want you to remember something: it's all about family. You treat people like family and that's why we are all in this room tonight."