Costco 'Absolutely Committed' to Patterson Crossing Site
We are part of The Trust Project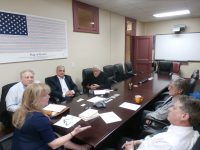 Costco made it clear last Monday that it's coming to the Town of Patterson no matter what.
That was the overarching message during a meeting with Putnam County Executive MaryEllen Odell, developer Paul Camarda of Patterson Crossing LLC, Patterson Supervisor Rich Williams, Kent Supervisor Maureen Fleming and
Costco representative Ernest Annibale. During the nearly hour long meeting on the third floor of the county office building, Annibale of Northwest Atlantic (that owns Costco) stressed Costco had every intention of opening a store at the Patterson Crossing Retail Center site, even if it meant waiting out litigation that's holding up the mega store's arrival.
Two Patterson residents, Harry Hitner and Michele Sweig, filed a legal action to thwart the project in 2016 after a gas station was added to the plans, but a judge ruled against them and in favor of Town of Patterson governing boards and Patterson Crossing LLC. The attorney representing the residents, Jim Bacon, has until late January to appeal the 40- page decision and possibly prolong the legal battle. Camarda said he's confident Patterson Crossing and the town would win any appeal and he would even consider a settlement with the neighbors suing to move the project ahead. Bacon could not be reached for comment before press time.
As this litigation plays itself out, Costco waits. Camarda hopes to see a shovel in the ground by spring 2018 if the legal drama ends soon.
"We are absolutely committed to this site and there is no other site," Annibale said. "This is the site we intend to do and we're going to stick it out until it's done."
Annibale said a year and a half ago, Costco was approached by developers about building a store in Fishkill and there were conversations with them. But ultimately Annibale and Costco decided against it and it was never under serious consideration.
Camarda explained the fight to get Costco into Putnam–which he called "one of the best companies in America"- -has been long and strenuous. He recalled he and his wife brought their daughter, young enough to be carried in his arms at the time, to a public hearing for the project around 2005. Now, that same daughter is a sophomore in college. He said he bought the property for $3 million and has invested $15 million in it over 15 years.
Two others stores, TJ Maxx and HomeGoods have committed to the site. Camarda said he expects to reach a deal for another store similar to Costco's size by early next year.
Odell said the county needs a destination store that will keep residents shopping in Putnam instead of traveling to Connecticut and also draw people from the surrounding region. She called Costco an "anchor." While Odell noted the importance of small businesses in the area, bigger stores and companies are a necessity going forward.
"Nail salons and dry cleaners no longer are what we want in supporting our economic development," Odell said. "This county is poised to do some great economic things that will create stability."
While Williams stated the project would be highly beneficial to his town, Fleming was more skeptical. She said during the meeting that Kent doesn't reap the same benefits as Patterson, but would require Kent to expend more resources toward the Patterson Crossing site like emergency services.
"That's a concern," Fleming said, adding later she hopes Costco is a "good neighbor."
Fleming said there are some residents that have reservations about the mass of the building and lighting, as well as the gas station that'll go in.
Camarda agreed with Fleming that Kent wouldn't benefit the same way Patterson would, but pointed out the Carmel school system, which encompasses all of Kent, is the biggest winner with the tax revenue it'll receive. The sales tax the county would pull in is substantial, he noted.
He also argued that by a reputable company coming to Putnam, it'll lead to other well-known businesses gravitating to the county.
"We're back on the map as a county, we're moving again," Camarda said.
Annibale downplayed any issues the massive project could have in the community. Annibale said most concerns would not be found once the store is opened because the site is well designed and most of the traffic would come from the interstate.
"People will be shopping at Costco and loving it," Annibale said. "And a lot of the early concerns will dissipate."