Cortlandt to Submit Petitions for Median on Bear Mtn Pkwy
We are part of The Trust Project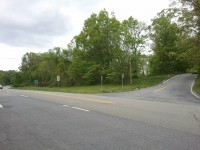 Cortlandt officials are planning to press the state Department of Transportation once again to install a median barrier on the Bear Mountain Parkway to avoid another fatality like the accident that claimed the life of a 27-year-old Peekskill resident in December.
Supervisor Linda Puglisi held a press conference last week on Arlo Lane off the Bear Mountain Parkway with mother Carole Wilson and other relatives of LaMarr W. Barnes, who was a passenger in a car that was struck December 9, 2011 by another vehicle that crossed into his lane to avoid hitting another vehicle.
"I hope this doesn't have to happen to anyone else," said Wilson, who fought back tears. "My son was a kind and loving father. Hopefully the state will take into consideration setting up the median."
Wilson, who lives in Wappinger Falls, and Cortlandt officials have been collecting signatures on petitions over the last two months. Puglisi said 1,500 people have supported the effort, which she hopes will convince the DOT to install the median. There have been three deaths and several accidents on the same stretch of the roadway near Locust Avenue.
"We're here to do our part to make sure there are no more tragedies," Puglisi said. "It's a parent's worst nightmare to get that call. We're hoping that this once and for all will get their attention."
"It's long overdue in this day and age to have the type of barrier the town is looking for. Bear Mountain Parkway is used by a lot more commuters than it was ever envisioned," said Councilman John Sloan. "The only answer we have is one of persistence."
Cortlandt has passed several resolutions over the years calling for a barrier. DOT officials have stated they were planning to install a barrier next year as part of a $60 million capital project to reconstruct the parkway but that project was shelved by the downturn in the economy. The DOT's latest plans are to reconstruct the interchange of the parkway and Route 6 in 2017, including the installation of a concrete median barrier on a short section of the roadway.
Puglisi said she doesn't accept the DOT's financial hardship argument, pointing to the April 29, 2012 accident near the Bronx Zoo where seven family members died. Three days after that accident, the DOT announced it would be installing a concrete barrier in that area.
"We've been waiting for years and demanding a barrier be put here. It can be done," Puglisi said. "All we ask is they do the same thing for our community to prevent future injuries and deaths. We need to have protection."