Corn Cuisine Will be Plentiful at Labor Day Weekend Festival
We are part of The Trust Project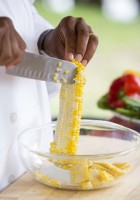 It's all about corn at "CORNucopia" – an annual Historic Hudson Valley event to take place on Labor Day weekend (September 5-7) at Philipsburg Manor in Sleepy Hollow. The daily hours are 10 a.m. to 5 p.m.
Corn will be the key ingredient used in preparing most of the food items served at this all-about-corn festival with selections ranging from cornbread to corn ice cream.
Food for eating or taking-home will include fresh roasted corn, corn salad, kettle corn, corn salsa and chips, and corn chili. The sweet corn ice cream of Blue Pig of Croton-on-Hudson will be served and beverages available will include draft beer from the Captain Lawrence Brewery in Elmsford and root beer.
Cornmeal ground can be purchased and recipes will be offered for some of the food items at CORNucopia.
Other activities include a corn-shucking contest, instruction in making cornhusk dolls and scarecrows, barn dancing, and a friendly scarecrow that comes to life. Colonial open-hearth cooking demonstrations are planned and children can traverse a kid-sized "mini-maize maze."
Bluegrass and folk music will be provided by the Tappan Cowboys, playing throughout the day. The gaming area will offer Konk a Crow, Cornhole, and Ring-a-Cob.
Visitors attending this event can also tour the site's 18th-century manor house and gristmill.
This event is suitable for children of all ages.
The CORNucopia proceeds will be used to support the educational and preservation missions of Historic Hudson Valley. Tickets can be purchased online at www.hudsonvalley.org: $16 for adults; $12 for seniors; $8 for children ages 3-17; and free for children under 3: and free for Historic Hudson Valley members.
Philipsburg Manor, located at 381 North Broadway (Route 9) in Sleepy Hollow, is owned and operated by the non-profit Historic Hudson Valley. For more information, call 914-366-6900, or visit www.hudsonvalley.org.