Opinion Advocates for ideas and draws conclusions based on the author/producer's interpretation of facts and data.
Conservative Comedy – in Westchester?
We are part of The Trust Project
White Plains' Chrissie Mayr Navigates Cancel Culture as a Conservative Comedian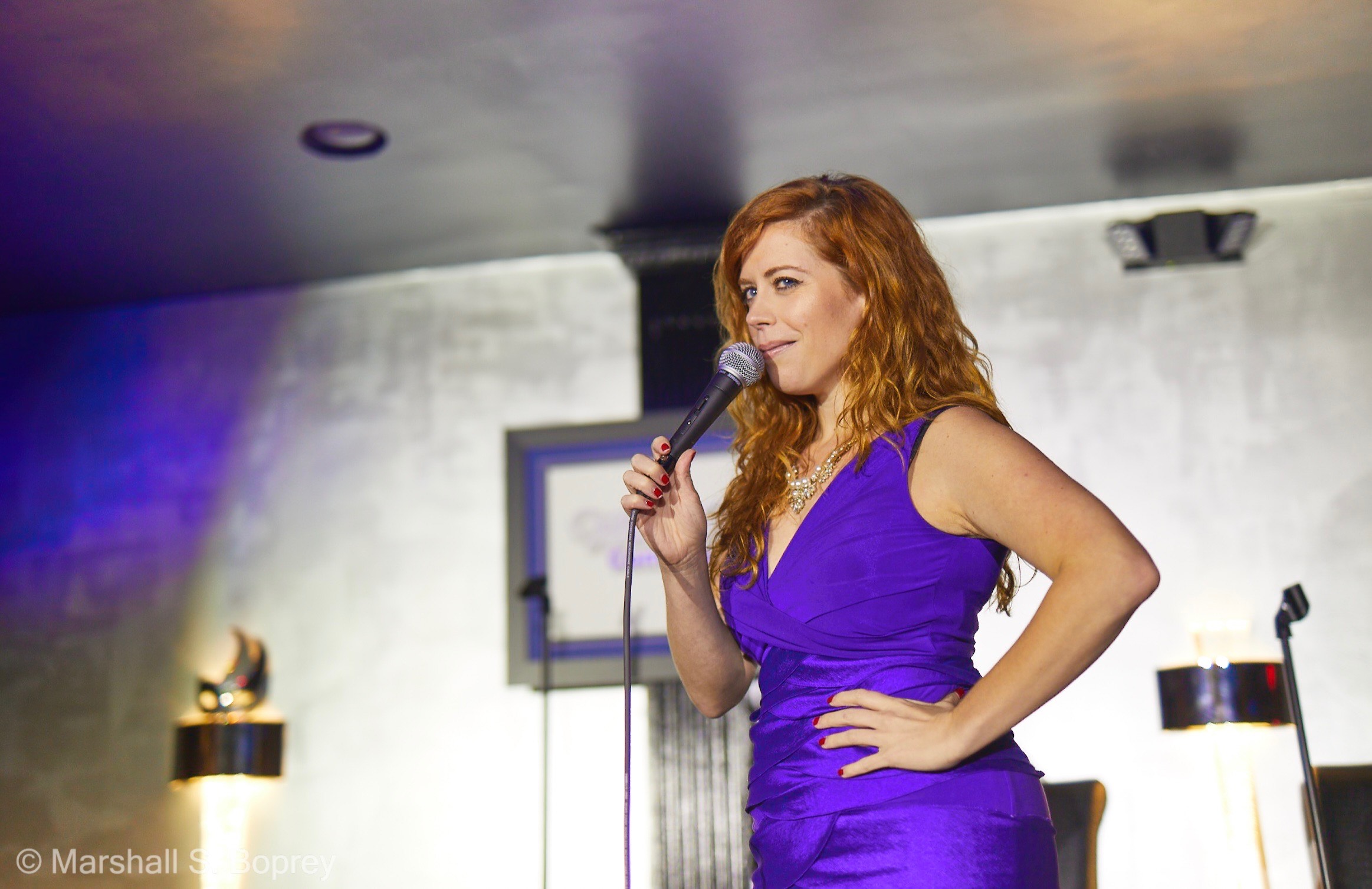 "I don't think there are any comedy clubs in North Korea," says Chrissie Mayr, a Westchester-based comic. "I think it's a good gauge for where a society is."
Technically, North Korea does have standup comedy. The late Supreme Leader Kim Jong Il even brought comedians, including Lee Choon Hong, to the presidential palace to perform. Lee was enjoying a successful career until 2013, when he accidentally broached a "sensitive issue" during his routine and was taken, mid-performance, to the Jikdong Youth Coal Mine, where he was sentenced indefinitely to perform hard labor.
Mayr, who has lived in White Plains for the last four years, has recently gained prominence poking fun at her own country's sensitive issues. She's mocked teen climate activist Greta Thunberg and poked fun at the celebrity-led "Imagine" cover recorded during the beginning of the pandemic. As a conservative-leaning comedian – a relative rarity, at least judging by the world of late-night television and Netflix specials – her political evolution came as she began to see cancel culture and political correctness as a threat to society and, more directly, her chosen career path.
"I made the connection between free speech being in danger and how it applies to comedy," she explains. "I never thought I would have to fight for the right to tell dick jokes. I never thought that was in danger."
Mayr's brand has been growing. She hosts two podcasts – the Chrissie Mayr Podcast, where she brings on a daily guest, and Wet Spot, an advisory panel on relationships, sex, and dating modeled after Howard Stern, on Compound Media. She also hosts CMP Uncensored on Rokfin, discussing topics that have been censored or demonetized on YouTube.
Last month, she appeared as a guest on The Megyn Kelly Show, a popular podcast with the former Fox News and NBC News host. Mayr has seen a bump since the show aired, both in downloads of her podcasts and attendance at her standup acts, she says.
"Fans of [Kelly's] show came to my show on the Jersey Shore" shortly after her appearance, Mayr says. "I could tell they weren't my usual fans. They looked like they had money."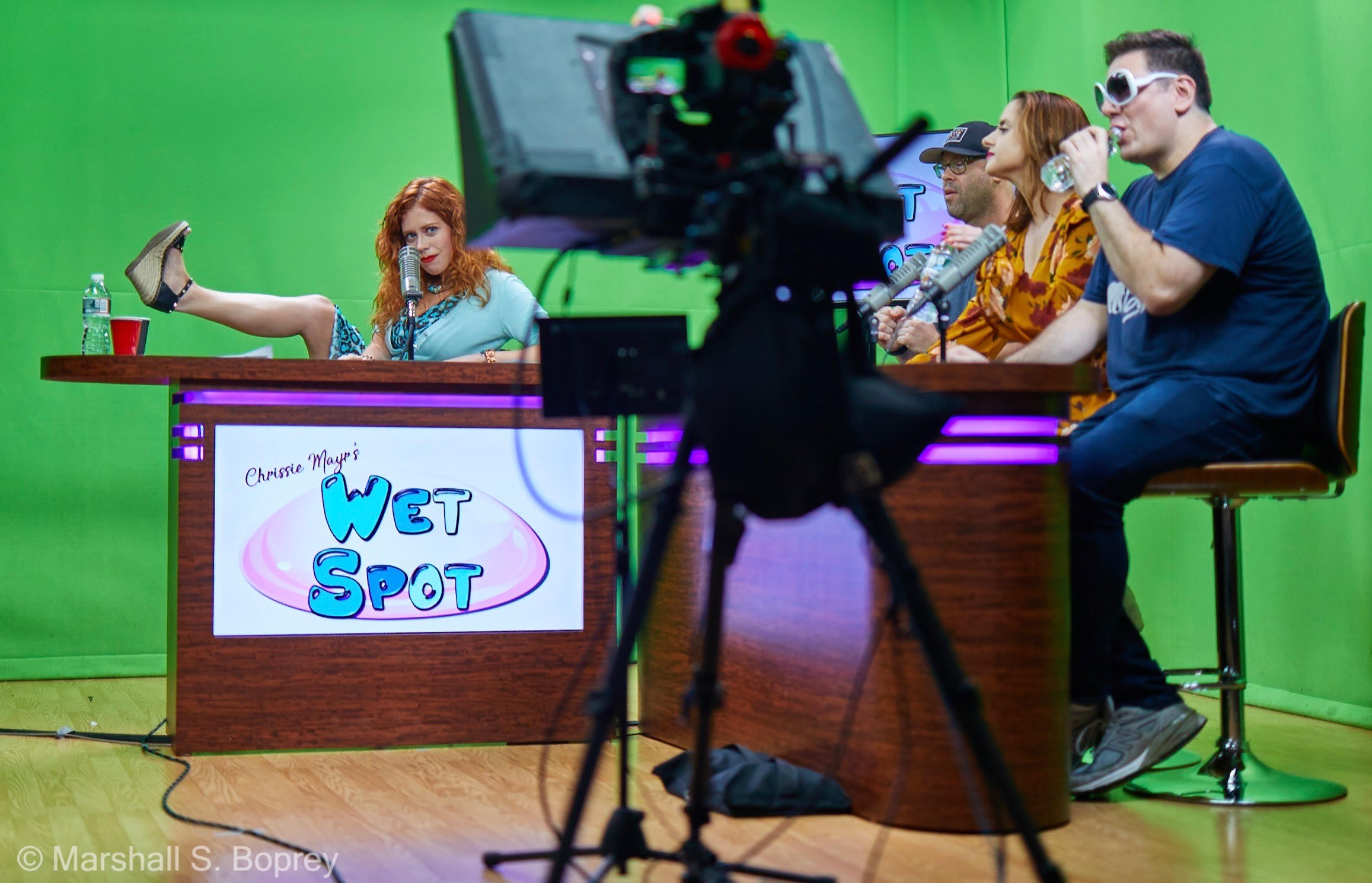 A Long Island native, Mayr started her comedy career while living in Rockville Centre, Long Island, in 2010. She moved to Brooklyn and worked many of the New York City clubs, including a monthly show at the Stonewall Inn from 2013 to 2019 and regular shows at Stand Up NY, New York Comedy Club, Comic Strip Live and The Stand NYC.
It was at Stonewall where she met Frank Pellegrino, a comedy producer who grew up in Thornwood, in 2014. They soon started dating, and by around 2017 they were moving into an apartment in White Plains together.
She thought that leaving the city for the suburbs "was going to be the death of my career," she remembers. But she continued to do gigs both in the city and in Westchester, where Pellegrino, a graduate of Iona Prep in New Rochelle, was active in pushing the local comedy scene. He founded the White Plains Comedy Club in the downstairs of Z Prime Steakhouse in 2019; the club has hosted porn star Stormy Daniels and actor and comedian Jeremy Piven. Mayr performed at the club at least once a month pre-pandemic and also performed locally at Lucy's Lounge in Pleasantville, Yonkers Comedy Club, Rockwells in Pelham and Emelin Theatre in Mamaroneck.
Mayr has also appeared on America's Got Talent and The Wendy Williams Show, as well as Laughs and Punchline, which both aired on Fox.
While she's been in comedy more than a decade, Mayr says she began taking comedy more seriously, and working harder, after her mother was diagnosed with terminal brain cancer four years ago. Her mother died in 2018.
"I felt like I had all this space opened up, and what filled it was, 'What do I want to do with my voice and my career? What do I feel called to be?" Mayr recalls.
Since the outbreak of the pandemic, Mayr has been performing in backyards and appearing on a slew of podcasts. And with New York City's comedy clubs shut down, she has felt better than ever about her move to Westchester from the city.
"I felt bad for the comics who were stranded there," she says. "All you're left with is your expensive apartment and nothing else."
THE RIGHT KIND OF LAUGHS
Watch any episode of The Daily Show, SNL, or any of the network late-night shows and you'll find little difference in political viewpoint.
"I can't even get looked at by Netflix," says Nick Di Paolo, another conservative comedian and former Westchester resident. "You've got to be a transgender fucking black guy with cancer to get a special. It's been one-sided forever."
For her part, the 37-year-old Mayr is a relative newcomer to political conservatism and even now bristles somewhat at the label, saying she has too many porn-star friends to fit neatly into that category.
"I don't even know if I identify as a conservative," she says. "People are very set on putting you in a box, but I feel like I have all the same classically liberal beliefs as I did a few years ago."
Mayr began her comedy career in 2010 as a typical Brooklyn liberal, she says. She was a "picture perfect female comic," producing a show at the Stonewall Inn, the iconic Greenwich Village gay bar associated with the gay rights movement.
Though she voted for far-left Green Party candidate Jill Stein in the 2016 Presidential election, her views were beginning to shift. By 2018, she says, she had begun to pivot to the political right, shaped by conversations with people like Larry Sharpe, a Libertarian who ran for governor of New York.
"What it meant to be a liberal at the time was shifting. You had to be on the radical left to be considered part of the left at all," she recalls. "Anyone who was a typical liberal is now in the middle, or maybe they are more conservative."
In 2020, Mayr started injecting more politics into her comedy. Her first major controversy came last March when she posted a video of herself and some two dozen comedians singing Carl Douglas's 1974 hit "Kung Fu Fighting" but with the lyrics changed to "Kung Flu," a term for Covid-19 some consider offensive towards Asians. Instagram deleted the video, deeming it hate speech.
Mayr says her target was celebrities who had released a much-mocked video of them singing John Lennon's "Imagine" earlier that month.
"That got me in a lot of shit because people thought I was being racist," Mayr says. "People thought I was making fun of Chinese people. I was making fun of Gal Gadot's Imagine."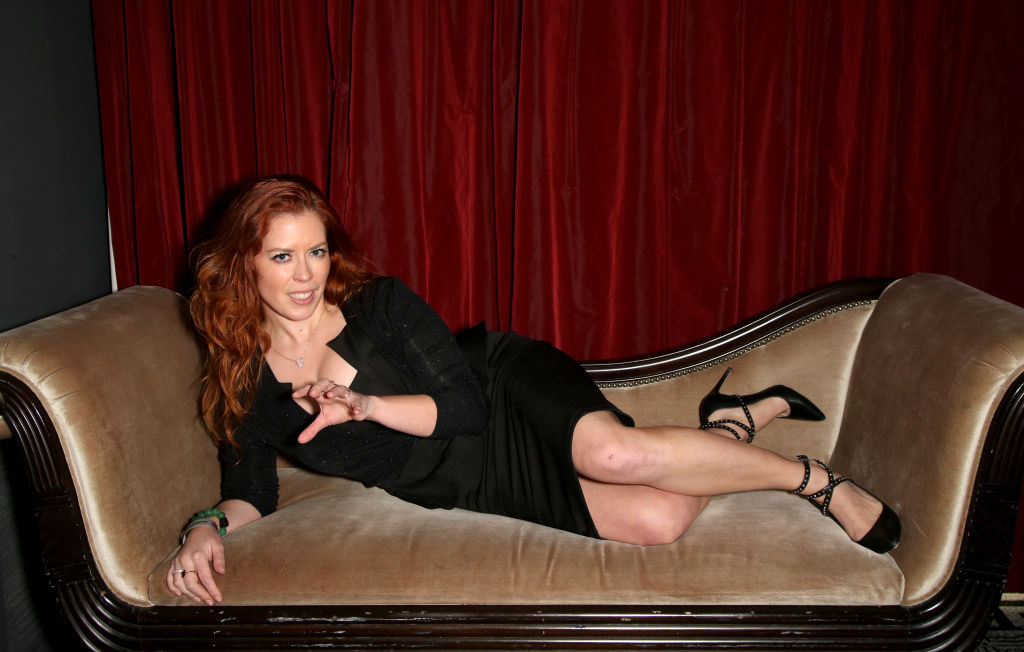 Her most recent bout of scrutiny came after her interview with Kelly, though it was the host who drew more of the fire in that case. Mayr went to Washington on January 6, she says, to witness and document the protests outside the US Capitol as a citizen journalist. She didn't find out until later that day that some of the protestors had stormed the building.
"When you look at the pictures of the people on the other side of the building, it was like, holy shit," she says. "I guess I had all the chill people on my side."
The topic came up during Mayr's appearance on The Megyn Kelly Show, with Mayr saying media coverage of the protests was wildly inaccurate. Kelly agreed, adding that the media represented the riot as being "much worse than it actually was."
Kelly went on to condemn the rioters who stormed the Capitol, and her remarks came days after Steve Schmidt, a co-founder of the anti-Trump Lincoln Project, called January 6 "more dangerous than the 9/11 attacks." Still, her comment spurred a slew of criticism, with CNN analyst Chris Cillizza calling Kelly "dead wrong."
This month, Mayr made waves when she vowed not to perform at any New York City venue that requires vaccination for entry. "I will not participate in segregation by vaccination status," she wrote in a tweet that was retweeted more than 3,000 times.
Despite some blowback, Mayr says her profile has only grown since she began allying herself with the right and speaking out against wokeness and cancel culture. She has been able to book more gigs, and her countercultural stances have connected her with prominent people in politics and entertainment including journalist Tim Pool, who brought her onto his show in March to speak about censorship in comedy. She began meeting other conservative comedians, like Di Paolo.
"Doing a podcast with Chrissie was fun. She made me laugh," says Di Paolo, who appeared on Mayr's podcast in May after meeting the comedian at conservative pundit Ann Coulter's house. "She seemed up on what was going on. And it was refreshing coming from a woman who's not doing 'woe is me' jokes."
COMEDY FIRST
Mayr is a comedian first, she emphasizes, not a preacher or an activist. Most of her comedy hits on the same kinds of topics she joked about when she was still on the left. "I still talk about what it's like to go get waxed. I still talk about different boyfriends I've had," she says. "I'm definitely not up there being like, 'Fauci sucks, and here's why. Biden sucks and we've got to do something about it.' That's not my style."
Yet, she adds, "laughter is a powerful tool in opening minds."
It's hard to dispute that comedians like Jon Stewart and Stephen Colbert have influenced young peoples' political views. And Mayr sees conservative comics as having a role in telling the other side of the story to people more likely to watch a comedy special than Tucker Carlson Tonight.
"You can deliver information without being preachy," she says. "You can cause them to think differently, which you are never going to do by preaching to a crowd or telling them they are wrong."
For example, she will remark about the current vaccine debate that "If you want to poke me with something, you have to buy me dinner first."
---
"Laughter is a powerful tool in opening minds." — Mayr
---
Mayr's career dream, she says, is to be a female Joe Rogan, a comedian whose popular podcast earned him a $100 million deal with Spotify. For now, her goal is more modest – to continue to grow her podcast and have on more prominent guests.
"Get to a point where I don't have to use coupons, that would be nice," she says. "I would love to be able to buy a house with money I make from comedy, or at least make a down payment."
Can a right-leaning comic achieve the kind of success that breaks the liberal stronghold on late-night TV? Di Paolo, who has leaned "right" throughout his 30-some years in comedy, is doubtful.
"They might start selling tickets at a comedy club, but I don't see a future," says Di Paolo, who lived in Ossining from 2004 until 2019 and hosts The Nick Di Paolo Show. "I don't see a female conservative or someone who leans right having their own show on a network. You might be able to take it to a certain level, but no, the future is not promising."
Mayr holds a similar sentiment but says network television should no longer be the goal. "It's a dying space," she says. "Maybe it's a matter of somebody with the resources like The Blaze or The Daily Wire being like, we are going to shoot a movie, or we are going to shoot a sketch show."
Asked which comics she admires, Mayr points to George Carlin, Adam Carolla, Ricky Gervais and Joan Rivers, all of whom, she says, spoke their mind without worrying how people would react. More important than any policy belief, she emphasizes, is the need for comedians to serve as society's truthtellers.
"Your number one priority is to entertain, so you shouldn't be scrutinizing comics for their takes on anything," she says. "We are clowns. You can't cancel a clown."
---
Andrew Vitelli is the former editor of The Putnam Examiner and The White Plains Examiner. A Hastings-on-Hudson native, he now lives in White Plains with his wife, Zeynep, two-year-old daughter, Zoe, and their dog Beasley.