Comprehensive Plan in Brewster Moving Forward
We are part of The Trust Project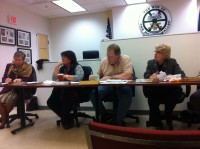 By Janine Bowen
The comprehensive plan for the Village of Brewster is beginning to move forward, as the Brewster Board of Trustees adopted its intent to declare a lead agency on the project at Wednesday's board meeting.
The board agreed at the meeting to begin advertising to solicit Requests for Proposals from firms who are interested in taking on the development plan for the village. The Board said that the requests will be paid for with grant money and a pre-bid conference will be held on January 23 for interested businesses to discuss the comprehensive plan.
According to engineer Jeff Folchetti, the project will take a year to a year and a half once it has begun.
In addition, the board also agreed to authorize Mayor James Schoenig to sign an agreement with Pace University. The one-year agreement will allow the Village to utilize the services of the Land Use Law Center for discussions and training regarding the comprehensive plan.
The public will have the opportunity to weigh in on the comprehensive plan with several public meetings set for the coming months.  The first meeting will be on February 26 from 7-9 p.m., with other meetings scheduled for March 8 and March 20 from 10 a.m. to noon. The site for these meeting is yet to be determined, although the board is looking into The Southeast Museum and local churches.
The board also set work session dates to discuss the comprehensive plan. Those are set for January 21, February 12, and March 6, if needed.