Completion of MLA Property Sale Draws Near in P'ville
We are part of The Trust Project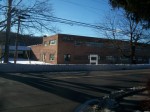 The cutlery company that late last year had announced that it would purchase the long dormant MLA property in Pleasantville is expected to officially close on the deal by the end of the month.
Mayor Peter Scherer said he is optimistic that the sale to J.A. Henckels International is weeks away from being complete, with work starting on the building shortly after. Henckels, which now operates out of a warehouse and offices on Saw Mill River Road in Hawthorne, agreed to purchase the 112,000-square-foot property on Marble Avenue from The Stop & Shop Supermarket Co. last December.
"There is a lot of stuff that has to be dealt with," Scherer said. "We are expecting that to be resolved soon. It's moving along to a happy resolution. That will be a happy day for the Village of Pleasantville."
The MLA property is the village's largest commercial parcel. The building has been vacant since Medical Laboratories Associates went out of business in 1997. Stop & Shop then bought the property and proposed a supermarket, but intense public opposition derailed those plans. Since then, the building has sat vacant as Stop & Shop looked for a new owner.
Recently, several village residents expressed concern that a for-sale sign remained in front of the property, Scherer said. However, Henckels has already been approved by the village's planning commission for the work that needs to be done to the building.
"They are ready to proceed," Scherer said. "Once they own it, they are going to get rocking and rolling."
Original plans called for Henckels to move in during early 2013. Scherer said he is unaware of the latest timetable.
Henckels representatives did not respond to a request for comment.
The company is expected to employ 75 people at the site and plans to maintain the existing footprint. There will be about 100,000 square feet of warehouse space, with the balance of the facility to be used for offices. The company plans to raise the roof to have more clearance and rebuild the front of the building.
Scherer said once Henckels starts operating at the site, it will be a huge boost to Pleasantville.
"Our biggest commercial parcel has been vacant for 15 years," Scherer said. "That obviously has a negative impact. It's disheartening to have that empty piece of property."