Committee-Endorsed Smalley, Sialiano Win Mt. Pleasant GOP Primary
We are part of The Trust Project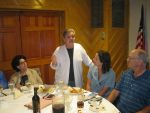 Mount Pleasant Councilwoman Laurie Rogers Smalley and former councilman Thomas Sialiano comfortably won Tuesday's primary for two town board seats in a major victory for the town's Republican Committee.
Smalley and Sialiano defeated incumbent Councilman Denis McCarthy and first-time candidate Joe Soricelli. Unofficial results from the Westchester County Board of Elections showed Smalley received 485 votes and Sialiano 458 votes. They were followed by Soricelli (321) and McCarthy (311).
With no Democrats running this fall, Smalley and Sialiano will serve for the next four years starting in January barring a successful write-in campaign. Supervisor Carl Fulgenzi is also running uncontested for another term.
This year's campaign is a turnabout from four years ago when the town GOP snubbed incumbent Sialiano in favor of first-time candidates Smalley and McCarthy.
Smalley and Sialiano, joined by supporters at Casa Rina restaurant in Thornwood, celebrated at about 10:45 p.m. after McCarthy conceded.
"I can't tell you how honored and touched I am," Smalley said. "This was hard."
Sialiano also thanked supporters, including his wife, Donalyn, who he said gave him permission to run for town board again.
"We got our message out," he said. "It's positive. We have a great vision. We have a great team. The people in this room love this town. I love this town. I'm willing to sacrifice my time and energy to make it better."
Smalley said the campaign's turning point was Sialiano's heartfelt speech at the 9/11 ceremony held two days before the primary honoring Michael Lyons, a New York City and Hawthorne firefighter who was killed at the World Trade Center.
"When you speak from your heart you don't need notes," she said.
Fulgenzi said the town board has worked on a multitude of issues during the past four years.
"I have never said I'm doing it. We're doing it," in explaining McCarthy's defeat. "Unfortunately, I think what set Denis off in the wrong direction was he felt he was doing it on his own. Nothing is successful without a team.'
McCarthy, who harshly criticized other town board members and the town's Republican Committee after he failed to be selected as one of the party's two nominees in May, said he understood that challenging the establishment in a primary would be difficult. However, elections are also important to encourage debate on key issues and to engage constituents.
"I'm proud of the campaign we've run, which focused on change, changing the status quo and shedding light on both town government and our local Republican Party," McCarthy said. "Although our candidacy for town council didn't prevail, it's my hope that the issues we raised of fiscal accountability, senior housing and open government will come to fruition sooner than later."
He also said he was proud of one of the highest turnouts in decades for a Mount Pleasant primary and new district leaders were elected.
"There is much work still to be done, such as keeping this year's budget from going over the tax cap, which I will be opposed to raising once again," McCarthy said. "I hope my colleagues will pledge to do the same, before the torch is passed."
Soricelli, a member of the town's Zoning Board of Appeals, congratulated Smalley and Sialiano and said he was glad to have been part of the process.
"I'm very happy to have participated in this," Soricelli said. "As a first-timer I learned so much about politics."
"We brought more people out to vote I think than we're going to see in the November election," he added. "We got issues on the table. I'm so happy they joined me in supporting senior housing and solutions for that. I'm so happy that they support trying to keep under the tax cap. These are the issues that I ran on. These are what I wanted to accomplish."