Comedian Brian Scott McFadden to Take the Stage at WPPAC
We are part of The Trust Project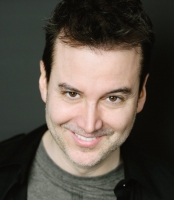 Actor/Comedian Brian Scott McFadden has been called one of the hottest stand up comics working today. Recently making his debut on The Late Show with David Letterman, McFadden also had a spot on The Late Late Show with Craig Ferguson on CBS. He is a regular on the New York comedy club circuit and recently has been expanding his appearances to the suburbs. He's booked for two evening shows at the White Plains Performing Arts Center in White Plains on September 27.
Produced by LoHud Comedy, McFadden has already made several appearances at Sam's of Gedney Way and has developed a local following.
In an interview with The White Plains Examiner McFadden's high energy and sophisticated wit were most apparent. With a pointed insight into the Westchester suburban lifestyle McFadden jokingly referred to the Metro-North Harlem Line as the bi-polar express. "It's like a mobile mental institution," he said. "Last stop is La La Land."
McFadden grew up in New York City. His father performed in Vaudeville and his mother was in the Ballet. "Comedy was the way our family communicated," he said. "It was back and forth one-liners at the dinner table."
Surprised that White Plains would have a state-of the art and professional theater like WPPAC, McFadden said he had been looking for a place in Westchester and is enthusiastic about White Plains. "There is a growing club culture here," he said.
Viewing suburbia as New York's regional wonderland, McFadden says he likes to play the urban suburban angle. It hits home and people can relate to it.
In addition to his comedic performances, McFadden is an accomplished stage actor, who has played Hamlet in New York. He is a versatile voice over artist with a vast range of accents and character voices in his repertoire. He has performed in such films as Ice Age II with Ray Romano and Robots with Robin Williams and Halle Barry.
McFadden is also well known as the voice of The #1 Sheep in the Award Winning Serta Mattresses TV commercials and recently released his new comedy CD "What Women Want."
McFadden's current performance "Love and Work" is scheduled for Friday, Sept. 27 at 8 p.m. and 10 p.m. at WPPAC. Tickets are $30 and $20.
WPPAC is located at 11 City Place, White Plains. Call 914.328.1600  or visit www.wppac.com for more information and to purchase tickets.