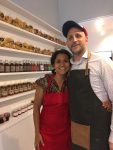 Working in theater for many years, Timothy Haskell wanted to do something drastically different. Along with his wife Rebeca Ramirez, the two decided on none other than a cheese shop.
The Cold Spring Cheese Shop opened July 21 right in the middle of Main Street. When the couple saw the prime spot become vacant, there was no doubt they wanted to move in and begin a new chapter of their lives.
For Haskell, opening a cheese shop is a "complete departure" from anything else he's ever done. Besides the cheese shop, there have been four or five other ideas the couple would dream about pursuing one day, but the cheese shop was at the top of the list. (Some of the contenders and possible future endeavors would be a small movie theater and a mini golf course.)
Haskell and Ramirez hope the cheese shop becomes a cool place for locals to gather. In the back of the shop, the idea is to be able to have intimate events like cheese tasting and pairing offerings like wine and cheese.
"Just sort of make it a fun place to be on a Wednesday night," Haskell said.
For example, on Aug. 29, the shop will have a cheese farmer come in to talk about cheese making and allow customers to taste different cheeses from his farm at Sprout Creek.
The couple split time between Cold Spring and Brooklyn the last year, and now live in Cold Spring full-time. The business has an emphasis on local products and when they can't do local, they focus on New York State, and then look to other products sold in the United States. Some of the local farms make award-winning cheeses, the two stressed.
Ramirez said Haskell's passion for cheese comes from his desire to create experiences for other people, whether it is in theater or at a haunted house. Now, he's bringing a hyper local food experiences to residents and visitors of the area. As Haskell, cheese is simply delicious.
Haskell said cheese shops are more than just about the cheese. The cheeses offered can be more gourmet style and are hard to get at a supermarket or deli. Additionally, customers can talk about the different cheeses offered and have a dialogue with Haskell.
Ramirez, who has an economic development background, focuses on how to serve the needs of community members, while Haskell is more focused on the food.
"The idea is cheese is great and everybody wants it," she said. "How do we continue to enrich that."
Philipstown residents get 10 percent off Monday-Friday. Customers can also pick up pasta sauce in case they want to cook up something quick for dinner at home.
When asked what their favorite cheese is, Ramirez said Sprout Creek Farm's Toussaint and Haskell said St. Stephen's cheese by Four Fat Fowl. Both are local products from the Hudson Valley, proving you don't have to travel to France or Italy for a quality piece of cheese.