Cohen Announces Another State Senate Run for 37th District
We are part of The Trust Project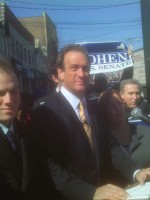 By Neal Rentz
Having nearly knocked off a stalwart of the state Senate in 2010, Republican Bob Cohen announced he will make another run for the 37th Senate District seat on March 5 in Yonkers.
The district is currently made of Harrison, Mamaroneck, New Castle, North Castle, Ossining, Rye, Scarsdale, New Rochelle and White Plains.
Cohen, 57, received 49.5 percent of the vote in his first run for the seat occupied by veteran legislator Suzi Oppenheimer. Earlier this year, Oppenheimer said she was retiring after representing the district for 28 years.
Cohen, appearing in front of Artuso's Pastry Shop on McLean Avenue, is where he began his campaign in 2010. For him, the issues are also the same as they were two years ago.
"In 2010, we came within a hare's breath of winning the race, said Cohen, a Scarsdale resident. "We talked about the issues openly and honestly. We leveled with the voters of Westchester and surprised a lot of people."
What makes this year's race different is Oppenheimer's retirement, Cohen said. He praised the outgoing state senator, even though they had disagreements on key issues. "She deserves a round of applause" for her service, he said.
However, state government must undergo significant change, Cohen stated.
"New York State government is failing us," he said. "It spends too much. It taxes too much. And it lacks transparency and accountability. The fault lies in Albany, with the career politicians."
Cohen charged that some state legislators take shortcuts, take handouts to trade for votes and make side deals, he said. He also repeated another theme from two years ago that Westchester has the highest property taxes in the nation. The high taxes are also forcing people out of the state, Cohen said.
"Much of that has to do with government mismanagement–the careless overspending, the overreaching regulations and the never-ending tax increases," he said. "All those things have caused thousands of people and many businesses from New York to leave."
Cohen called business like the bakery "the lifeblood of our communities" and said they need to be given every chance to thrive and grow rather than being wracked by high taxes and burdensome regulations.
One of the reforms he would seek is turning public employees' pensions into 401(k)-style investments, which would cut costs, Cohen said. But reforms are blocked by the career politicians who are often influenced by special interests.
"I'm not a politician," Cohen said. "I'm a husband. I'm a father and I'm a businessman. I'm your neighbor."
Cohen said an independent commission should redraw legislative district lines and there should be term limits for state lawmakers.
Cohen may have at least one challenger for the GOP nomination. North Castle Councilwoman Diane DiDonato-Roth has been rumored to be contemplating a run for the seat, but has not yet made an announcement. Cohen said he would not alter how he will campaign if there is a primary.
"My focus is on reaching out to the voters, whether in a primary or in the general election," he said. "My message is the same, that we have to fundamentally change Albany. We have to change the dynamic. We have to remove and eliminate the career politicians that are destroying our state."