Clinton Vows to Fight for New Yorkers at SUNY Purchase Rally
We are part of The Trust Project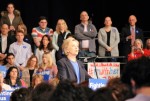 If there was a theme being conveyed at Thursday's rally for Hillary Clinton at Purchase College, one only had to listen to the songs being played before she appeared on stage to figure out what it was – she's a fighter for the people.
After an upbeat playlist included "Stronger," "Stand by You" and "The Fighter," Clinton took the stage with longtime area Rep. Nita Lowey to the sounds of Rachel Platten's "Fight Song," which includes the line, "I've still got a lot of fight left in me."
Clinton said at the event she understood the pain, frustration and disappointment many Americans feel about the economy and the way the country is being run. The former senator and secretary of state told the hundreds on hand she now wanted to fight for her fellow New Yorkers as president.
"Our campaign is about breaking down all the barriers that stand in the way of you and every American in sharing in the promise of our country," said Clinton, a Chappaqua resident who later made an appearance at Horace Greeley High School.
Supporters, who were given signs with the slogan "Fighting for us," packed into the small repertory theater space within the larger Purchase Performing Arts Center. Organizers started telling those in line waiting to be admitted that the venue was full almost 90 minutes before the event started. The crowd was mostly white, but varied widely in age. An influx of the college's students into the rally likely helped it skew younger than most other Clinton rallies.
The millennials have generally been absent from Clinton's base, with many young first-time voters throwing their support behind the grassroots campaign of Vermont Sen. Bernie Sanders. A small group of students supporting Sanders chanted "If she wins, we lose" near the start of the event. Clinton was undeterred, giving her an opportunity to explain the differences between the two Democratic campaigns.
"You may not be supporting me, but I will support you," Clinton told the crowd.
Clinton alleged that many of Sanders' policies were unrealistic and couldn't be enacted, such as free college for all Americans. She said she could support free community college and public colleges and a program in which students volunteered 10 hours a week as part of their student aid program.
Clinton also said she wanted colleges to sign a compact to reevaluate their costs that are being passed on to students. Those who can afford college should still have to pay for it, and Americans should never have to foot the bill for the wealthiest students, she said.
"I'm not asking you to send Donald Trump's grandkids to college," Clinton said to loud applause.
She also called for lowering college loan rates, and said there should be a cutoff for paying off loans to avoid burdening students with onerous debt for decades.
"If you've paid for 20 years, you're done," she said of the plan.
The former first lady also told supports she wanted to make early childhood education a federal priority, saying too many children from low-income households are starting school lagging behind their peers.
Clinton said she supports more advanced manufacturing and funding for small businesses to help boost employment numbers. She pledged to end wage inequality for women, and aimed to raise the minimum wage statewide as Gov. Andrew Cuomo has vowed to do. She also said she would continue to support the Affordable Care Act, also known as Obamacare.
"Before there was Obamacare there was HillaryCare," she said, "and I still have the scars to prove it."
Clinton also took on Trump, the GOP frontrunner, for his views on immigration and national security. Trump's recent comments about how women should be prosecuted for having an abortion were still a hot topic at the event, despite the real estate mogul later backtracking, saying doctors who perform abortions should be the ones arrested.
"I think it's odd that all these GOP candidates want limited government except when it comes to women's rights," Clinton said.
Clinton also chastised Sanders for discounting Trump's comments on abortion as a distraction from the serious issues.
"This is a serious issue," Clinton said, before touting her National Abortion and Reproductive Rights Action League endorsement and vowing to defend Planned Parenthood.
The event ended in just over 40 minutes. Attendees filed out quietly without incident while a small group of Sanders supporters staged a rally outside the venue. Thursday's rally was privately funded by Clinton's campaign. It was not organized or endorsed by the college.