Class AA White Plains Coasts to Victory, Knocks off Carmel
News Based on facts, either observed and verified directly by the reporter, or reported and verified from knowledgeable sources.
We are part of The Trust Project
Class A Mahopac Shocks Hen Hud
By Hannah Getman & Jon Martirano, Examiner Interns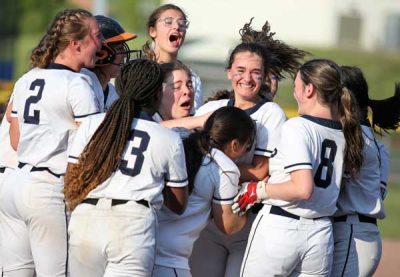 White Plains vs. Carmel:
White Plains has been one of (if not the most) dominant teams in Section 1 Class AA this season.
They finished the regular season 19-2 with an 11-0 league record, earning them the top seed in the playoffs. Standing in their way was a tough Carmel (No. 8) team coming off a win 7-0 over Mamaroneck (No. 9). Earlier this season, the Tigers took down the Rams 9-4, a closer margin than they were used to. But, they continued their winning ways in this matchup, defeating the Rams 9-1 in a great team win. They had their bats going with a two-home run from Peri Kahn and another homer from Emily Anastacio. Tigers teammates Ava Galligani and Bella Cummings also had two RBI each. The Tigers were also aided by a great pitching performance from Serena Gillen. The Tigers will move on to face Arlington (No. 4) in the semifinals.
Fox Lane vs. Somers: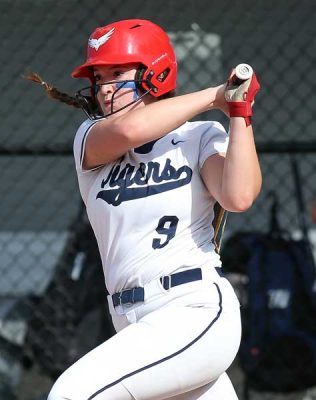 This matchup was a big toss up in the first round of the Class A playoffs as No.8 ranked Fox Lane took on No.9 ranked Somers, following Somers' 14-11 win against John Jay CR in their outbracket game . Earlier this year, Somers took down the Foxes 11-6 but the Foxes also defeated Somers in the rematch 5-1. It was anyone's game to win, a showdown between two evenly matched teams. The Foxes came out fired up, getting three quick outs defensively and quickly taking advantage of Somers' mistakes. They loaded up the bases on a walk, error, and infield single. Pitcher Ellie Walsh battled back for the Tuskers, striking out two batters in a row.
But this was followed by two walks, bringing in two runs for the Foxes before ending the inning. Both teams went scoreless in the second. The Tuskers offense found their footing in the third, loading up the bases and scoring on a sacrifice fly to center field hit by Katherine Papa. It was a defensive battle from this point on with neither team scoring until the sixth inning. In the bottom of the sixth, the Foxes got a runner on with an infield single but the Tuskers fought back, throwing the runner out stealing second. Following a walk and steal to advance the runner to second, Fox pitcher Sofia Rodriguez stepped up, hitting a double to right field and earning an RBI to put the Foxes up 3-1. She then stole third on a wild pitch, forcing a wild throw over the third baseman's head, which she took advantage of and stole home. This heady play by Rodriguez gave the Foxes a 4-1 lead and the energy to go 1, 2, 3 in the top of the seventh and seal the win. Rodriguez ended the game 3-4 with a double and an RBI as well as seven strikeouts in the circle. Teammate Sadie Rothfleisch also had an RBI. For the Tuskers, Katherine Papa had an RBI. The Foxes moved on to play top seeded Tappan Zee on May 21, resulting in a loss, while the Tuskers season was over.
Greeley vs. Eastchester: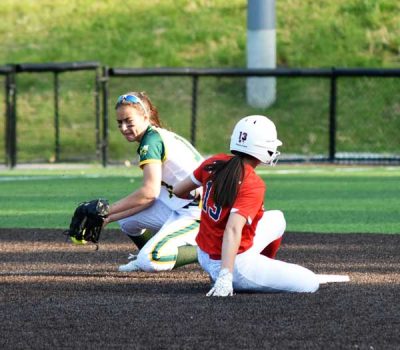 Working your way from an out bracket game to being a legit contender in the Section 1 playoffs is no easy feat, especially for a team with no seniors on the roster. But, No.11 ranked Eastchester made it look easy, winning 18-3 in their out bracket game against No. 22 Horace Greeley. From the beginning, it was clear that the Eagles came to play. They started off the game strong, with a quick 1, 2, 3 first inning defensively. Greeley kept it interesting in the fourth, however, with a double to right by Jenna Rosenburg, scoring two after moving baserunners off errors. These mishaps didn't phase the Eagles as they expanded their lead 16-2 by the end of the fourth. Horace Greeley is officially out of contention in the playoffs while Eastchester moved on to defeat No. 6 Lakeland, 8-2, on May 18th, punching their ticket to the quarterfinals for Class A.
Briarcliff vs. Pawling:
By most standards, a 17-2-1 record seems like something that would earn a team a top three seed for playoffs. But, for the Pawling Tigers, it was not meant to be. They were ranked fourth going into the playoffs and matched up against the 13th ranked Briarcliff Bears. The Tigers came out with something to prove, dominating the game and winning 10-2. Junior pitcher Jose O'Leary got the win for the Tigers and earned her 100th career strikeout during the game. Pawling will move on to play fifth seeded Valhalla on Monday in the quarterfinals while Briarcliff's season is over with
this loss.
Westlake vs. Dobbs Ferry:
The Westlake Wildcats (No. 7) had a tough matchup on their hands facing the ten-seeded Dobbs Ferry Eagles. Earlier this season, the Wildcats rolled the Eagles, winning 22-9. But, in this rematch, the Eagles got their revenge, winning 11-7 thanks to a strong offensive performance. For the Eagles, P Nicolette Giorgio went 3-5 with two RBI, Maysin Kannapin went 3-5 with two doubles and two RBI, Sofia Fucci went 2-4 with two RBI, and Cameryn Bell went 2-5 with a double and two RBI. Thanks to this offensive explosion, Dobbs Ferry advances and will face number 2 seeded Ardsley in the quarterfinals.
Croton-Harmon vs. Valhalla: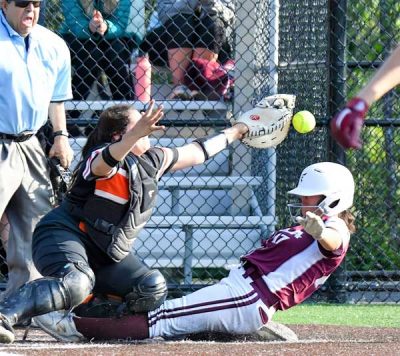 Valhalla had a dominant season going 14-7 with a 9-1 league record, earning them the 5th seed in the Section 1 Class B playoffs. The only thing standing in the way of the Vikings on their journey to the quarterfinals was the Croton-Harmon Tigers, the 12 seed. But, nothing was going to stop the Vikings in this game. They dominated offensively with impressive performances from Kathryn Wolfthal who hit a home run, double and had four RBI as well as Ava De Natale who had three hits, including a home run. Gianna Corelli also had a home run for the Vikings. Valhalla had everything clicking offensively but also had an impressive pitching performance from Jessica Olenchak who only allowed one earned run in her first varsity win. The Vikings will move on to face Pawling (No. 4) in the quarterfinals.
Byram Hills vs. Ardsley:
The Byram Hills Bobcats came into this matchup as the 15th seed and faced a very talented Ardsley team. The Bobcats were looking for redemption, having lost to the Panthers (No. 2) twice in the regular season and ending their season on a seven-game losing streak. But, this dream was not to be as they lost to Ardsley, 15-0. Pitcher Sofia Bartko dominated for the Panthers, only allowing one hit in five innings and earning seven strikeouts. The Bobcats season is officially over with this loss while the Panthers will host Dobbs Ferry (No. 10) in the quarterfinals.
May 17
Gallagher's Grand Slam Helps Somers Defeat JJCR
No.24 John Jay CR Wolves (7-13) @ No.9 Somers Tuskers (12-6)
Somers 14, JJCR 11
*Class A Varsity Softball Outbraket Playoffs
The Somers Tuskers defeated the John Jay CR Wolves, 14-11, to advance to the Class A softball first round for the first time in many years.
"It feels amazing. We kind of have this curse over sectionals. We haven't won a sectional game in years, so it feels amazing to finally break that." said Krista Gallagher on the big win.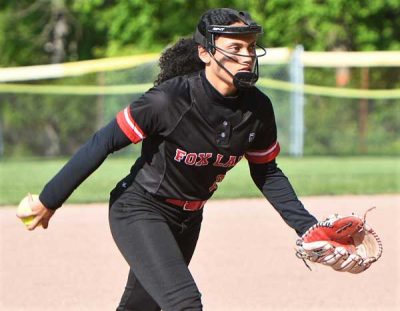 This was a back and forth game, with many lead changes and big plays. John Jay CR scored two in the top of the first inning as Riley Foote singled in two runs after a walk and an error got two girls on. Somers followed with a leadoff triple by Ellie Walsh, and a bunt by Katherine Papa drove in the runner. Somers added three more singles, but the game stayed 2-1 at the end of the first.
Walsh pitched strong in the second inning, with a walk and two strikeouts to keep it 2-1. In the bottom of the inning, Somers continued with their hot bats as they took a 4-2 lead.  An error and two walks loaded the bases, and another walk tied the game at two. With the bases still loaded, Krista Gallagher singled to left field and drove in two more runs, making it 4-2 Somers.
The third inning saw Somers struggle in the field, as three three errors were deemed costly as JJCR scored four to take a 6-4 lead before going up 9-4.
After a tough few innings for Somers, they came out in the fifth and scored eight runs to grab the lead back. Victoria Morel and Alyssa Pirraglia each got early singles, and a double to the center field wall made it 9-6. This led to a pitching change by John Jay, and Emma Klares was replaced by Julia Neumann. In only the second at bat for Neumann, Walsh was hit by a pitch and walked the next runner to load the bases. With two outs and bases loaded, Gallagher came up to the plate and on a 2-2 count, hit a bomb to center field for a grand slam homer and a 10-9 lead.
"Oh my god. It was amazing. As soon as I saw that ball go over the fence, I was so excited. I could hear my entire team screaming and it was just so great." said Gallagher of her grand slam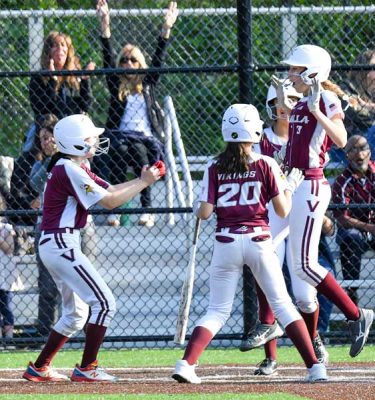 Somers continued to put up runs on the board in the sixth inning, as after a single by Morel, Pirraglia tripled to make it 11-9. A walk and another triple, this time by Katie Cole, scored 2 more runs to make it 13-9, and a throw home after a grounder gave Somers another run and the 14-9 lead.
"I liked absolutely everything,"  Somers Coach Teresa Ricci said of her team. "The fact that we were down many runs and we never gave up. That is the definition of our team. We never give up no matter what the score is and that's unbelievable, especially Krista Gallagher coming in clutch with a huge shot to put us over. That's unbelievable. Unbelievable."
No. 20 Mahopac Indians (8-13) @ 13 Saunders (10-10)
Mahopac 7, Saunders 3
*Class A Varsity Softball Outbraket Playoffs
The 20 seed Mahopac Indians defeated 13th-seed Saunders to advance to the first round of the class A playoffs against Hen Hud. Mahopac ace Ava Lichtenberger was dialed in and whiffed 18 batters in an amazing effort to help her team. Gianna Lafaro also had a big game, with four RBI.
No. 18 Sleepy Hollow (10-10) @ No.15 Yorktown (9-13)
Yorktown 20, Sleepy Hollow 4
*Class A Varsity Softball Outbraket Playoffs
Yorktown crushed Sleepy Hollow, 20-4, to advance to the Class A first round. Destito and Riordan both had three RBI each, and Albano, Reilly and Centofanti each had a pair of RBI. Brown also pitched well, with five strikeouts in four innings.
No. 21 Gorton (6-10) @ No.12 Brewster (12-9)
Brewster 22, Gorton 0
*Class A Varsity Softball Outbraket Playoffs
May 18
No. 11 Eastchester Eagles (10-10) @ No.6 Lakeland Hornets (15-5)
*Class A Varsity Softball First Round Playoffs
The Eastchester Eagles defeated the Lakeland Hornets, 8-2, in a Class A first-round game to advance to the quarterfinals of playoffs.
This was a quick game, with little action throughout the first five innings. Both pitchers were solid, with multiple strikeouts and flyouts, including a no-hitter through five innings for Lakeland.
Lakeland got on the board first in the opening inning, driving in a runner with a single, to make it 1-0 early. From then on, there were many groundouts and popups, but Lakeland broke the lull in the fifth inning with a single, driving in another run to make it 2-0.
In the sixth inning, Eastchester finally broke out with a leadoff single to break the no-hitter, and got another girl on base with a dropped strikeout. A walk loaded the bases with zero outs, and another walk brought in a run to make it 2-1. Eascthester then grounded out, but a throwing error brought another run in to tie the game at 2. With the game tied at 2, Bailey Gallo had a successful bunt and gave the Eagles the lead at 3-2, and a passed ball gave Eastchester another run to lead 4-2.
In the final inning, Eastchester put up another four runs, solidifying their comeback victory.  In the bottom of the final inning, Lakeland had two runners on, but a groundout ended the game.
No. 20 Mahopac Indians (8-13) @ No.4 Hendrick Hudson Sailors (15-6)
Mahopac 9, Hen Hud 2
*Class A Varsity Softball Quarter-Finals
The Mahopac Indians upset Hen Hud to advance to the Class A quarterfinals, 9-2. Ava Lichtenberger was stellar on the mound, striking out 13, following an 18 strikeout game against Saunders the previous night. Lichtenberger, along with Ally Wanner both had three RBI, and Ereditario had her first career varsity hit. The Indians advanced and will play Pearl River in the semifinals.
No. 11 Scarsdale (8-13) @ No. 6 Ossining (15-7)
Ossining 10, Scarsdale 6
*Class AA Varsity Softball First Round Playoffs
Ossining defeated Scarsdale to advance to the Class AA quarterfinals to take on No.3 Ketcham. Ossining had a comeback win, and pitcher Mia Wilkins recorded her 100th career varsity strikeout to help her team win. Kristin Howie went 4-4, including a triple, and D. Hernandez went 3-4, along with L. Alexander, who hit a home run.
No. 12 Brewster (12-9) @ No.5 Pearl River Pirates (15-5)
Pearl River 9, Brewster 0
*Class A Varsity Softball Quarterfinals
No.15 Yorktown (9-13) @No. 2 Harrison (19-3)
Harrison 7, Yorktown 1
*Class A Varsity Softball Quarter-Finals
May 19
No. 11 Pleasantville Panthers (10-10) @ No. 6 Putnam Valley/Haldane Blue Tigers (14-6)
Put Valley 6, Pleasantville 5
*Class B Varsity Softball First Round Playoffs
After being down five runs, Put Valley/Haldane scored six unanswered to defeat the Pleasantville Panthers, 6-5, on a walk-off hit by Maggie Sampson to complete the comeback to advance to the quarterfinals.
Pleasantville started the scoring off in the second, scoring three runs to take an early lead. Madalyn Saraceno tripled to drive in a run, and Abigail Saraceno had a successful bunt to score another run. The Panthers then scored again after a fielder's choice off the bat of Emily Sokich. The next inning saw more scoring from Pleasantville, as Anna Morea doubled in a run and Madalyn Saraceno, who went 4-for-4, singled for her second hit to make it 5-0 Panthers. However, everything would change in the bottom of the inning.
Callie Sniffen got Put Valley on the board with the first of her two home runs with a solo shot. Mary Mikalsen then had an RBI single to make it 5-2. After an error, Kate Flanagan made it all around the bases and scored on a passed ball to cut the deficit to within two.
The game would remain at 5-3 for the next two innings, but in the bottom of sixth inning, Madison Martinez got on with a single, and Sniffen crushed a ball over the fence to tie the game at 5-5 with a huge blast.
In the seventh and final inning, the Panthers had runners on, but P Kylie Recuppio of Put Valley got out of the jam to help give her team a chance to win the game. With momentum in their favor, Mikalsen singled and stole second, and Kaleigh Rund walked to give the Tigers two runners on. Maggie Sampson then came up to the plate and singled to deep center field to win the game on a walk-off hit and a happy pile-on.
Putnam Valley/Haldane will play No.3 Albertus Magnus (16-3) in the quarterfinals.
No. 20 Mahopac Indians (8-13) @ No.5 Pearl River Pirates (15-5)
Pearl River 2, Mahopac 0
*Class A Varsity Softball Playoffs
One of our spring sports intern reporters, Hannah Getman, is also a member of the Fox Lane High School softball team. She's not covering Fox Lane games directly but did gather facts for this story.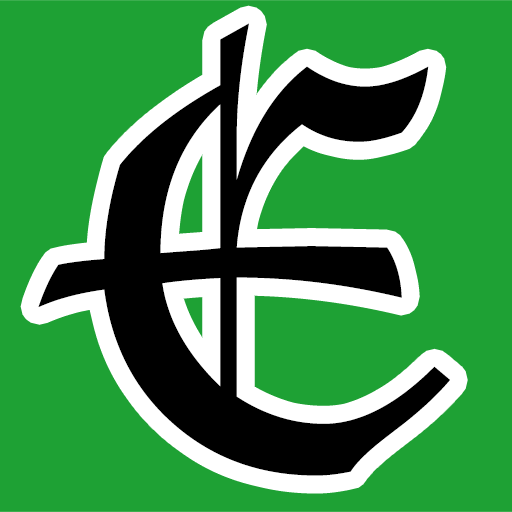 Examiner Media – Keeping you informed with professionally-reported local news, features, and sports coverage.