City Program Brings Wednesdays to Life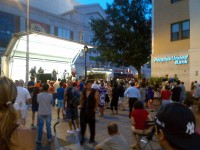 On summer nights, the fountains at Renaissance Plaza in White Plains always draw a good crowd, with local residents congregating at the downtown landmark to sit on the benches and watch the waterworks. On Wednesday's, though, the plaza is brought to life, as hundreds come to the corner of Main and Mamaroneck for a night of music and dancing.
"Dancing Under the Stars," held from 7 to 9 p.m. on Wednesdays in July and August, brings a live band to the plaza to perform on the city's "Showmobile." Residents come to the plaza, which is right outside Starbucks, to dance and enjoy some of the area's musical talent.
"It's just a fun opportunity to be downtown on beautiful Wednesday nights in the summertime," said Recreation and Parks Deputy Commissioner Fran Croughan.
When the fountains opened nearly a decade ago, Croughan was struck by the potential to turn the area into a real venue.
"I spent an evening in the downtown area, and I just said, 'We need to bring music to this area in the nighttime,'" she recalled.
She decided to give the working people of the city something to break up their week by bringing the bands out on Wednesdays and in 2007 the first Dancing Under the Stars series was held. Now, on a typical Wednesday, 500 to 1,000 people stop by the plaza for some period of time to listen to the music.
Each year, Croughan explained, the series has had distinct theme.
"One year I spanned the decades. One year I spanned the globe, bringing different international music every week," she said. "One year I spanned the USA."
This summer, the theme is "Mix It Up," as the most popular bands from the past five years will be coming back. The season kicked off on July 11 with "Show Time." This week "Wanderers 50's & 60's" will take the stage, followed by "Jigsaww" on Aug. 1, "Pablito y su Avalancha" on Aug. 8, the Neil Diamond tribute band "Simply Diamond" on Aug. 15 and "Good Clean Fun" on Aug. 22.
Croughan believes the concerts bring people into the downtown and help the local businesses.
"I see people who then choose to have dinner, come for ice cream, get coffee at Starbucks," she said. "It's a fun place to be. I think that's what the lore is."