City Limits Diner, White Plains Celebrates 20th Anniversary with Throwback Bash
We are part of The Trust Project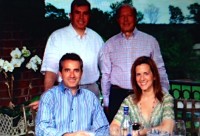 The City Limits Diner at 200 Central Avenue in White Plains has recently undergone a major renovation, taking the interior décor to a new level of sophistication along with a complete overhaul of the kitchen for state-of-the-art food preparation at its finest.
For anyone who remembers the iconic coffee cup that adorned the popular community gathering place prior to the 2012 renovation, it is making a reappearance on Thursday, May 8 during a "Throwback to 1994" bash.
It's a celebration of the Livanos family's 20 years of re-defining classic diner fare. A few new cocktails will be launched that will remain on the menu and for the one day (May 8), breakfast, lunch and dinner menus will feature 1994 pricing.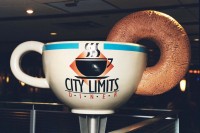 The City Limits Diner in White Plains is the Livanos family's longest-standing food establishment in once place. For the first time since opening in 1994, the restaurant underwent an extensive makeover, unveiling a refreshed, more mature mid-century California vibe. "Our goal has always been to elevate the dining experience for our loyal customers," explained Nick Livanos.
New menu additions, including a selection of pizzas, are featured along with the restaurant's long-time favorites prepared by Executive Chef Peter Assue and Pastry Chef Tracy Assue.
Other restaurants in the Livanos Restaurant Group include Oceana, a seafood restaurant on West 49th Street, New York City; Molyvos, featuring Greek dining on West 55th Street, New York City, Abboccato Italian Kitchen, also on West 55th Street, New York City; Moderne Barn, an American-style restaurant with global influences, Armonk; City Limits Diner, Stamford, Connecticut and; Burger Deluxe for family dining with a retro flair, Wayne, New Jersey.
It all began in 1957 when John Livanos immigrated to the United States from Greece and began his career as a dishwasher, working for his uncle in Manhattan. He later purchased his first dining establishment; a luncheonette in Long Island City in 1960, and in 1985 opened the elegant Livanos Restaurant in White Plains. Today, John Livanos and his children, Nick, Bill, and Corina own and manage seven restaurants.
"My father's family were fishermen, they spent their life on the sea," Nick said. "All of our restaurants feature fresh fish on the menu."
Nick owes much of his family's success to their dedication to maintaining a high standard. "There are no short cuts," he emphasized.
Nick grew up working in restaurants and knew he loved food from the age of 13. With a business degree from Adelphi and as a graduate of the Culinary Institute of America today, Nick oversees the business of all Livanos restaurants, sharing the duties with Bill and Corina.
Bill also attended Adelphi, graduating with a degree in business, and then worked with a few national chain restaurants. When Livanos Restaurant opened, Bill concentrated on developing the wine program, gaining the expertise that allowed him to oversee all Livanos' beverage programs. Currently, Bill is concentrating his efforts on the Livanos' suburban restaurants.
Corina, the youngest member of the Livanos family, graduated from the University of Rhode Island with a bachelor's degree in management. Working her way through the restaurant chain, Corina soon became part of the Livanos management team.
"The chefs and managers at all of our restaurants are professionally trained and network in the field and with each other," Nick explained. "If something new is introduced at one of our restaurants, the other chefs look at it and if it's appropriate for their setting, it is introduced."
With the goal to maintain everything at its best, the renovation to the White Plains City Limits Diner was focused on the kitchens, which were completely gutted and replaced with the most modern equipment. "It is good to update every 15 to 20 years," Nick said.
"We have our own smoke house, which has been enhanced, so you are guaranteed the Smoked Atlantic Salmon featured with the very popular Curried Egg Salad and Yellow Fin Tuna Salad is of the highest quality," he added.
The smoke house is also used for pork, ribs and barbeque dishes. The House Pulled Pork in the popular quesadilla appetizer comes right from the in-house smoking facility.
The City Limits menu features an eclectic mix from breakfast through lunch. The bar area has been redesigned to accommodate business meetings and people who like to sit at the bar and enjoy their dinner. "We have a lot of people come in after work for a drink. It has become a real social setting," Nick explained, adding that the bartenders have their own specialty cocktails they mix for the after-business-hours crowd.
There is a complete menu for parties and catering and City Limits adds items for special holiday dining.
All of the breads, pastries, and pies are created in the City Limits' state-of-the-art bakery, and production of these products is done daily. Signature items include Walnut Raisin Bread made with organic flour, Banana Cream Pie, and Blueberry Muffins.
City Limits offers a seasonal selection of pies as well, specializing in varieties such as cherry in summer and pumpkin in fall. Desserts available for retail sale include mini tarts and Valrhona chocolate pudding so guests can bring a little taste of the diner home with them.
In addition to the daily offerings there is a wide variety of custom-made specialty cakes. Available for intimate occasions or special events, the custom cakes include tiered wedding cakes and creative options in a variety of shapes and sizes.
The retail bakery is easily accessible just within the entrance at the White Plains location.
Nick says he is pleased to be a big part of the White Plains and Westchester community. Located across from the Westchester County Center he sees a spike in business during special exhibitions and is excited the Knicks D-League Team has made the County Center their home. "Things have really picked up over the years," he said.
City Limits Diner White Plains is open Sunday – Thursday: 7:30 a.m. – 10 p.m., Friday & Saturday: 7:30 a.m. – 11 p.m. Walk-ins are accepted.
Visit www.citylimitsdiner.com for full menus and links to other Livanos Restaurant Group websites.