Cindrich Seeks Re-election for Eighth Term as Mount Kisco Mayor
We are part of The Trust Project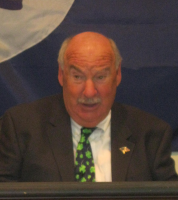 Mount Kisco Mayor Michael Cindrich confirmed last week he is seeking re-election for the post he has held for the past 14 years.
Cindrich said he looked forward to another term, having helped institute sound fiscal policies, which has allowed the village to provide high-quality services and maintain reasonable property taxes.
"I devote much of my time to serving the Mount Kisco community as mayor and a community volunteer," Cindrich said. "My reward is providing a safe and affordable community for people of all economic levels, offering young families to empty nesters a place to live and enjoy what Mount Kisco has to offer."
He said he would continue an active role in a family-owned real estate and construction business based in New England. Cindrich recently retired after a 32-year law enforcement career.
Along with Cindrich, up for election this year on the all-Democratic village board are Deputy Mayor Anthony Markus and Trustee Peter Grunthal. Markus said he is seeking another term while messages left for Grunthal were not returned over the past two weeks.
Although the village faces a large number of vacancies in its downtown storefronts, the mayor pointed out that the municipality is in strong shape, particularly financially. There has been a significant amount of debt that has been repaid, capital reserves have been increased to more than $12 million and the village has the highest bond rating in its history, Cindrich said.
He added that there had been major efforts on rebuilding the village's infrastructure, enhancing recreation programs and constructing the new library while participating in various energy conservation programs. He said he was the first mayor to acquire additional watershed green space next to Byram Lake.
If re-elected, Cindrich said he hopes to acquire additional green space, work to increase the village's commercial tax base and protect residential zoning districts from incompatible uses.
"I also intend to rebuild our image as a community willing to expand, especially in our business district," he said.
The mayor touted the intermunicipal agreement with the county for police services that has saved village taxpayers more than $1 million while providing more patrols and specialized services.
Cindrich said he is working to convert the village's five-acre landfill into a solar farm to revitalize the downtown business district.
Cindrich, who has served Mount Kisco as a volunteer and elected official for more than 40 years, was first elected to the village board in 1995. He won his first term as mayor in 2003. He has been a member of the Mount Kisco Special Police and the Mount Kisco Volunteer Ambulance Corps and has been a Little League and junior football coach. Cindrich also chaired the Zoning Board of Appeals at one point.
Aside from receiving the endorsement of the Democrats, Cindrich has been nominated by the Independence and Conservative parties.
No Republican has formally announced an interest in running for the board. A message left last week for Mount Kisco GOP Chairman John Francan was not returned.