CHS Takes Part in Hudson Valley Regional FIRST® Robotics Competition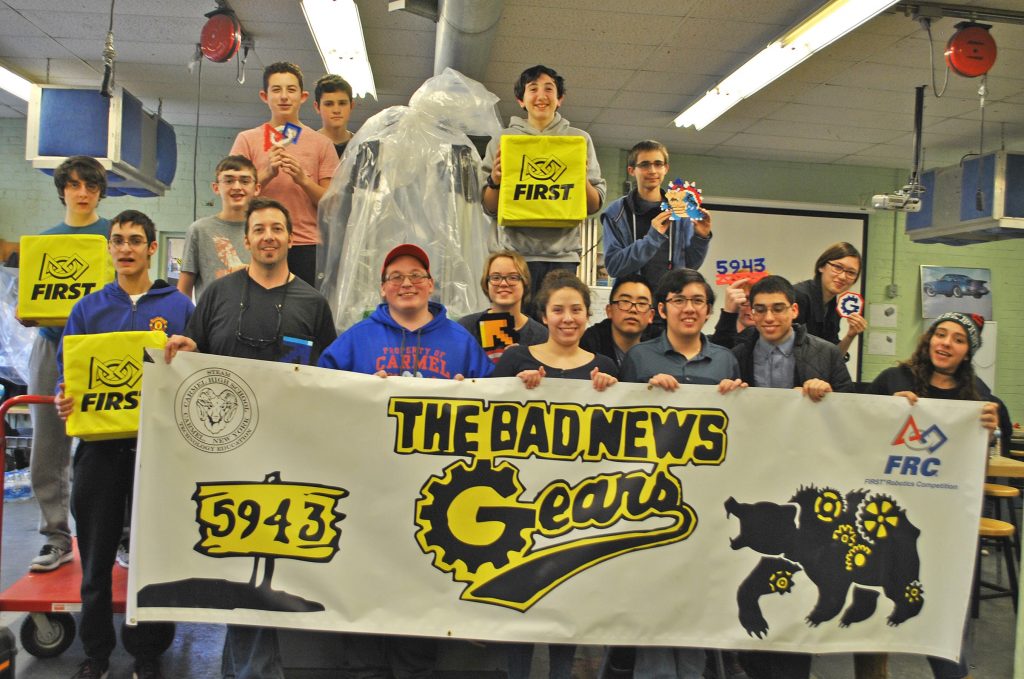 The Bad News Gears, Carmel High School's Robotics team, will be one of more than 3,600 high school teams competing worldwide in the FIRST® POWER UPSM Robotics Competition. The Gears will participate in the Hudson Valley's Regional event March 22 – 25 at Rockland Community College in Suffern, in hopes of making their way to the FIRST® Robotics World Competition, held in Detroit in April.
With the guidance of adult mentors, teams are challenged to design a team "brand," hone teamwork skills, as well as build, program and test robots to perform tasks against a field of competitors. The Gears have been competing since 2015, guided by FRC Lead Mentor and Carmel High School Technology teacher Don Saldicco. CHS has participated in FIRST Robotics FTC division since 2008, when a grant provided by PACE University powered the inaugural FIRST team.
This is the second year for the Hudson Valley event, which is attracting 41 teams from the U.S. and abroad, including the Dominican Republic, Paraguay and Quebec. The Carmel team has been mentoring and sharing resources with a team from Putnam Valley High School, who are first time participants.
The energy that currently keeps Carmel's Gears turning is provided by sponsors including; GlobalFoundries, PepsiCo, NASA, Fryer Machine Systems, Aversa Landscaping, Hipotronics, InSite Engineering, and DTQ Data Systems, who also provide mentors and engineers in addition to financial support necessary to compete.
"Aside from the tremendous hands-on learning and real-life STEM skills implementation, students learned more about collaboration and workplace professionalism on this project than they did the entire school year," says Coach Saldicco. "We've won already, as far as I'm concerned."
About FIRST®  
Accomplished inventor Dean Kamen founded FIRST® (For Inspiration and Recognition of Science and Technology) in 1989 to inspire an appreciation of science and technology in young people. Based in Manchester, N.H., FIRST designs accessible, innovative programs to build self-confidence, knowledge, and life skills while motivating young people to pursue opportunities in science, technology, and engineering. With support from over 200 of the Fortune 500 companies and more than $30 million in college scholarships, the not-for-profit organization hosts the FIRST® Robotics Competition for students in Grades 9-12; FIRST® Tech Challenge for Grades 7-12; FIRST® LEGO® League for Grades 4-8; and FIRST® LEGO® League Jr. for Grades K-4. To learn more about FIRST, go to www.firstinspires.org