Chiulli Makes Second Assembly Run in Bid to Unseat Galef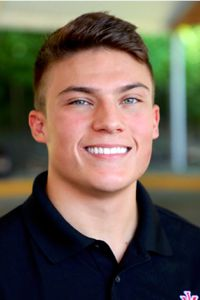 Lawrence Chiulli is vying for the opportunity to further help his community if he's elected to represent the 95th Assembly District.
The 23-year-old Cortlandt resident and Army National Guard member, returns to challenge incumbent Sandy Galef, a Democrat, after failing to win two years ago. While Chiulli accepted defeat in 2018 and maintains his immense respect for Galef, he believes she has served long enough, asserting that career politicians are threats disguised as heroes.
"She is going for her 14th term. Why on Earth should someone serve 28 years in the same seat and expect to convince constituents she is here to make changes to our government?" Chiulli said. "Enough of the status quo. The answer is simple – term limits."
Chiulli added that his decision to run came after receiving requests from residents to end the "lunacy in Albany." He said Galef has voted on "horrid bills" and has poorly handled situations of importance to the district she represents. The 95th Assembly District covers Peekskill, Cortlandt, the Town and Village of Ossining and parts of Putnam County, including Cold Spring and Philipstown.
While Galef voted in favor of bail reform, Chiulli, who touts himself as a justice reform advocate, pressed that it's a poor law that needs to be repealed and rewritten. He said bail reform has caused a spike in crime and fails on all accounts, citing the discovery laws as putting witnesses and victims in danger.
Additionally, he said the law leaves loopholes for defense attorneys to get hardened criminals off and the requirements place a serious financial burden on taxpayers.
Chiulli also contended that Galef has mishandled the closure of Indian Point. Chiulli said it's a poor deal, but agreed the state needs alternate sources of energy. He added his support to transition to renewable energy.
If elected, the Westchester Community College graduate, who's running on the Republican and Conservative lines, said one of his top priorities will be the health of his constituents. Regarding the NY Health Act, Chiulli said the plan is financially unsustainable, adding that a plan must be funded federally, otherwise New York will accrue more debt.
However, with a roughly $14 billion state budget deficit and Gov. Andrew Cuomo considering 20 percent across-the-board cuts if federal assistance doesn't come through, Chiulli said it isn't right for politicians to harm the education system, hospitals and local governments due to their poor decisions.
To ease the property tax burden, Chiulli said officials need to "look at where its spending is and cut it," suggesting the public school's budget must be examined as well.
The STAR program also needs to be enhanced to allow lifelong residents to retire in the state, he said.
"The harsh reality of this is New York's finances haven't been handled correctly for years; COVID-19 for obvious reasons sure has made them worse," Chiulli said. "Our federal government most likely does not want to bail out current New York lawmakers due to their horrendous state spending disguised as COVID-19 bailout."
If elected, he'll propose delaying non-essential government projects and relocate funds to areas that are jeopardized by cuts. He pressed that essential personnel who have worked throughout the pandemic must remain off limits.
Continuing to open the state safely is also a priority, Chiulli said. He asserted that state debt will increase under current conditions. Additionally, Chiulli wants to ensure protocols and procedures are put in place to better handle the care of nursing homes during the pandemic.
With most school districts throughout Westchester and Putnam opened for in-person learning with considerable restrictions, Chiulli said he plans to visit each school in his district to ask superintendents and teachers what could be done to improve teaching and learning. He added that it's imperative to address the psychological, emotional and financial well-being of teachers, families and students.
Chiulli said school budgets should have a yearly audit to address wasteful spending and identify where cuts can be made.
Chiulli said the state must reduce fatalities from drugs and opioids before legalizing another drug. He indicated he would support legalization of recreational marijuana as long as there's safe and sensible plans in place first.
New York has among the most stringent gun laws in the nation, but Chiulli believes those laws are unconstitutional and hurt those who are registered to carry firearms. He said laws should target criminals, but the Safe Act made law-abiding citizens criminals overnight.
While many have labeled the Nov. 3 presidential election as the most important in the nation's history, Chiulli is asking residents not to vote strictly party line. Consider the candidates and vote for the person who represents their ideals and will best serve the area, he said.
"This race isn't about Democrat or Republican, this is about candidates," Chiulli said. "I understand people want to vote with their party but if people do not do their due diligence and see the substance of the candidates, then we are going to lose democracy."