Cheff's Italian Deli & Market, Carmel
We are part of The Trust Project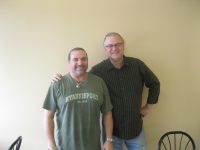 Newtown, CT resident Jeff van't Slot and Charles Costa of Lagrangeville, NY never owned a business together and both come from different occupational fields.
But for years they enjoyed cooking together on weekends and decided to open Cheff's Italian Deli & Market. The business opened about a month ago.
Costa previously worked as a construction contractor and van't Slot was an information technology contractor.
Van't Slot said last week the duo selected Fair Street for the location of their new deli after they learned the space, which had been the site of a deli, was available. It took three months to complete the renovations to the site and he and his partner did all the renovation work themselves, he noted.
The eatery cooks breakfast and lunch meals for eating in or for takeout.
Costa said the deli offers a variety of Italian dishes, including pastas and parmesan entrees.
Both men cook at their new deli. Costa handles the Italian dishes and van't Slot specializes in cooking the barbeque fare. One day last week a barbeque special was boneless ribs with a side of macaroni and cheese. Aside from offering barbeque pork ribs, van't Slot said he wanted to add beef brisket and other entrees to the barbeque menu.
"Right now we're sort of keeping it basic," he said.
The co-owners also sell a variety of products they personally created, including seasonings, spices, dry rubs for lamb dishes, barbeques sauces and pasta sauces, which are all made at the deli.
"We've got a whole line of products," van't Slot said.
Van't Slot said the new business has had "its ups and downs. It's slow. It's summertime,"
Most of their customers live in Carmel, Costa said.
"We love the cooking. I certainly love the contact with the customers," van't Slot said. "In three weeks we've made so many friends. So many nice folks have come in repeatedly. I love that."
Van't Slot said he wants his new business to be "the place to go to for good Italian food, good imported Italian products and the best barbeque out there. I've lived in Texas, I've tried barbeque everywhere."
"Even though we don't live here, we really want to make this a community cornerstone," van't Slot said.
Cheff's Italian Deli & Market is located at 13 Fair St. in Carmel. For more information call 845-200-7643.