Check Out the Line-Up of Entertainment at the 2012 4-H Fair
We are part of The Trust Project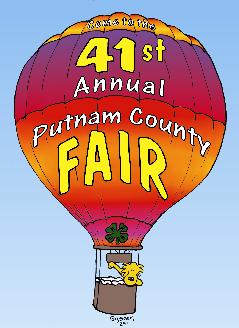 This Friday, July 27 Saturday, July 28 and Sunday, July 29 there will be live musical and dance performances throughout the day on the stage at the Shady Grove Theater as part of the Putnam County 4-H Fair to be held at Veteran Memorial Park on Gipsy Trail Road in Carmel. All activities and performances are free! And there is no charge for parking!
 Please check out the schedule of music and dance below and then read the performers biographies below.
 Friday, July 27
 Youth Showcase
Noon Opening Showcase
12:45 p.m. Stephanie Richer
1:00 p.m. Andy Myers Students
2:00 p.m. Larkin O'Connor
2:15 p.m. Josie, Katie & Johnna Corrao
2:30 p.m. Shannon Gaffney
3:30 p.m. Kelly Oster School of Irish Dance
 Saturday, July 28
 11 a.m. Bob Cinque
11:45 a.m. Angelina Mendes
12:15 p.m. Stephen Ernst
1:00 p.m. Too Human
2:00 p.m. David Amram
3:00 p.m. Acme Trio
4:00 p.m. Cross Purpose
5:00 p.m. Danbury Mad Hatter
Barbershop Chorus
 Sunday, July 29
 11:00 a.m. Bill Hudson
11:45 a.m. Scarecrow
12:15 p.m. Peter Spink
1:00 p.m. The Home Grown String Band
2:00 p.m. New Middle Class
3:00 p.m. The Home Grown String Band
4:00 p.m. The Russ Harper Trio Friday
 New Middle Class is Barbara Borok (lead vocal) and songwriter Mike Borok (guitar/vocal). Their music has been played on over 50 radio stations world-wide. At this year's 4-H Fair they will be accompanied by a special guest, bassist/vocalist Rachel Borok. Their songs are adventurously original, and walk a razor thin line between the funny and the serious. You can check out their music, including free songs, at newmiddleclass.com
Scarecrow consists of Greg Monacelli on lead vox, rhythm guitar & keyboards, Tom Jenkins on lead guitar, and vox & Mike Ferrara on vox, harmonica & strumstick. They have been together for 13 years and play home grown original Rootsy Rock & Roll with a twist of country & blues. Steve Ernst has been writing songs and performing for over 20 years. He worked with two friends to form the musical trio "Homeward" and recorded the album "Destiny" with that group. Today Steve will be performing a mix of covers and original songs and guitar arrangements.
 The Mad Hatter Chorus is a non-profit fraternal organization affiliated with the worldwide Barbershop Harmony Society. Based in Danbury, the Hatters have been singing since 1966.
 Shannon Gaffney will be a junior this fall at New Fairfield High School, and is happy to be performing at the fair for the fourth time. She has been studying voice for five years, and has participated in eighteen musical theatre productions since the age of eight. Most recently, she appeared in "13 The Musical" (Patrice) and "Little Shop of Horrors" (Chiffon) with the Pied Piper Youth Theatre. This summer, she will be performing as Glinda in the St. Lawrence O'Toole production of The Wizard of Oz.
Stephanie Richer is 10 years old and going into 6th grade at George Fischer Middle school, where she is on the High Honor Roll. She has performed at talent shows as well as singing The National Anthem and "God Bless America" at a Renegades Baseball game. She also sings with the St. James Children Choir, Dotted Half Notes, Kids Who Cares, Random Farms and was part of All County Chorus. Stephanie is very excited about performing at the Fair.
 Too Human has been touring the east coast for several years performing their own original jazz and blues influenced material along with the great jazz standards.
Angelina Mendes is a teacher and a Doctor of Education, in the Carmel Central School District. She has been performing all over the tri-state area. Angelina has been recognized by several organizations and most recently sang at Putnam County's Bicentennial celebration. She sings a variety of material ranging from the 1930s to the present, covering all genres from classical to rock and pop. At the fair, she will be accompanied on guitar with colleague and friend, Rob.
Cross Purpose is a four-piece Christian rock and blues band formed in 2005. They play a variety of styles that range from straight ahead rock to high-energy ballads to even 12 bar blues. Their first CD with 12 original songs was released in 2007 and their new CD comes out soon.
 Homegrown String Band consists of Georgianne and Rick Jackofsky and daughters Erica & Annalee. Their repertoire consists of traditional and original music inspired by the rural string bands that recorded during the 1920's & 30's. They've been performing at blues and folk festivals since 1997.
 Larkin O'Connor is a 15-year-old Brewster resident. She has performed in school talent shows for the last six years. Besides singing, Larkin has appeared in the Putnam County Children's Discovery Center's "Drac's Back" & "45 Minutes from Broadway."