Obituary Reports the death of an individual, providing an account of the person's life including their achievements, any controversies in which they were involved, and reminiscences by people who knew them.
We are part of The Trust Project
Dr. Charles Carmen Matteo, 79, died on Wednesday afternoon May 4 at his home in Pleasantville just 12 days before his 80th birthday.
He is survived by his wife of 51 years, Dr. Martha R. Matteo; brother Anthony T. Matteo and his wife, Judith Matteo, of Northfield, Mass.; two sons, Evan and his wife, Rachel Matteo-Boehm, and daughter Isabel and Benjamin and his partner Dr. Yael Shrager, all living in San Francisco. He is also survived by his uncle Salvatore Stramondo, 94, and his cousins, nephews and niece with their respective families.
Chuck, as he was known to most, was born in Lawrence, Mass. to Louis Matteo and Rose Stramondo. He grew up in a close-knit Italian-American family as the oldest member of his generation. In 1959, he graduated as the salutatorian of Central Catholic High School of Lawrence, Mass.
In 1963, he received his undergraduate degree from Boston College where he studied physics and Russian on a full-tuition Presidential Scholarship and played trumpet in the marching band. After college, he joined the New England Enzyme Center at Tufts University School of Medicine, where he became the assistant director of day operations and the go-to technical leader and where he met his future bride. In 1975, Chuck earned his doctorate in biochemical engineering from MIT.
Chuck had an impactful professional career in biochemistry, microbiology and food production technology. He held leadership positions in corporate research at Union Carbide, engineering research at General Foods and served as a consultant to production and operations functions. He developed methods for computer-aided automated quality control.
Chuck did not seek the spotlight but was always keenly studying and contributing to his surroundings. Photography was a lifelong passion, where he combined his technical skills and compassion for others, whether close relatives or acquaintances. His photographs showcase his mastery of natural light and soft shadow and capture the true essence of his subjects: at ease, yet deeply connected to the person behind the camera.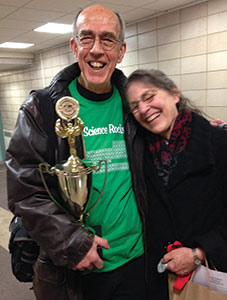 In retirement, Chuck dedicated his full energies to the Pleasantville community and the advancement of the STEM (Science, Technology, Engineering and Math) education curriculum. He was a member of the launch committee for the Jacob Burns Film Center, which opened in 2001. He and his wife, Martha, served on the Pleasantville Schools 2026: Strategic Plan committee, helping formulate the long-term vision for the school district and the actionable steps to execute it.
In 2015, Chuck and Martha co-founded the nonprofit Pleasantville Friends of STEM organization along with Dr. Usha Sankar and other community members. This nonprofit has served as the umbrella for the school district's nascent Science Olympiad program, which the group started in 2012. Chuck and Martha worked as a close and complementary team dedicated to all things Olympiad. Until his passing, Chuck acted as Olympiad coach and mentor to Pleasantville Middle School students. These teams regularly placed at the regional and New York State level competitions, but more importantly, there are college students today who are science and engineering majors because of Dr. Matteo's influence.
To his family, Chuck will always be remembered for his love, warmth and smile that lights a room, the twinkle in his eye and witty humor. He moved heaven and earth for family and friends. He was a curious and fearless problem-solver who relished a technical challenge or an interesting new idea, and puzzling through these findings with his sons.
He had passion for life and the long list of people that he cared deeply for. He loved cooking, whether pancakes for his granddaughter on Sunday morning, a holiday feast for the extended family or his favorite pies and summer fruit tarts. He loved building things, often with his father's carpentry tools. Chuck loved gardening, art, folk dancing, jigsaw puzzles, and, above all, his wife and lifetime partner, Martha.
A remembrance ceremony will be held on Saturday, May 14 at the Beecher Flooks Funeral Home at 418 Bedford Rd. in Pleasantville from 4 to 8 p.m. The family will also receive guests on Sunday, May 15.
In lieu of sending flowers, donations may be made to the Pleasantville Friends of Stem at www.pfostem.org in memory of Charles C. Matteo.