Chappaqua Schools Chooses New Assistant Superintendent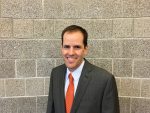 The Chappaqua Board of Education appointed a Mahopac educator to serve as the district's new assistant superintendent for curriculum and instruction last week.
Dr. Adam Pease was appointed during the board's Mar. 14 meeting following a six-week interview process that attracted more than 100 applicants for the position. He will begin in Chappaqua in July.
Superintendent of Schools Dr. Christine Ackerman said Pease stood is highly regarded by his colleagues who spoke enthusiastically about his professionalism, instruction, vision and administrative potential.
Pease will fill the vacancy created by Eric Byrne, who left Chappaqua to become superintendent of the Rye City School District. Mary Ford has served as interim assistant superintendent for curriculum and instruction.
"Adam possesses a strong background in redesigning instructional spaces to foster authentic, student-centered collaboration, creation and differentiation," Ackerman said. "He also employs a professional development philosophy that supports teacher creativity, innovation, empowerment and motivation, which makes him an excellent match to advance Chappaqua's vision and goals for teaching and learning."
Pease is currently assistant superintendent for curriculum and instruction for the Mahopac School District, a post he had held the past two years. He previously served as house principal for Mahopac High School starting in 2003 before being appointed to principal in 2008. He began his career teaching science at John Jay High School.
Ackerman cited Pease for his commitment to a flexible learning environment and infusing technology throughout the curriculum while creating a collaborative and reflective culture that meets the needs of all students.
Throughout the search process, Pease said he remained true to his core values and beliefs and was glad to see them align with Chappaqua's. He added how schools need to be a safe, positive, welcoming and exciting place filled with educators on a mission to make students successful.
"High performing school districts don't happen by accident," Pease said. "They are the result of hardworking students, involved parents, a supportive community, dedicated faculty members, strategic district and building leaders and an entire school community working together with a purpose of doing what's best for our young people," Pease said. "I couldn't be more proud to be the newest member of the Chappaqua leadership team."
Pease, a Carmel High School graduate, lives in Brewster with his wife and two daughters.