Chappaqua Resident Named New Boys & Girls Club Leader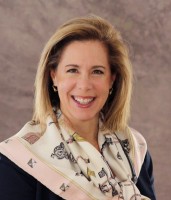 The Boys & Girls Club of Northern Westchester in Mount Kisco has found its new leader from within the organization.
Chappaqua resident Alyzza Ozer, who came aboard as the Boys & Girls Club's chief development officer last October, was recently appointed as its new CEO.
Ozer, 51, was unanimously chosen by the club's board of directors to fill the vacancy created when longtime Executive Director Brian Skanes departed on Apr. 10 after serving for 21 years. Skanes has become director of major metro services for Boys & Girls Clubs of America, working out of the Albany area.
"In our search for executive leadership for our organization, Alyzza was the natural choice," said R. Todd Rockefeller, president of the board of directors. "Alyzza brings many years of nonprofit experience, superior business acumen and tremendous passion to the position; she has mastered the business of philanthropy. I am confident that the club is well-positioned for continued success with Alyzza at the helm."
Ozer had more than 25 years of experience in real estate and the law before entering the nonprofit field seven years ago. Ozer said that in 2008 she wondered to herself if when she reached 80 years old whether she would look back on her life and be satisfied. Ozer decided then to devote herself to working for nonprofits.
Ozer said she is proud of many of the club's achievements, including the continued success of an educational program for at-risk high school seniors. The program has maintained a 100 percent high school graduation rate for its participants over the past six years.
It's been one of many programs over the years that the club has provided to assist youths 18 months to 18 years old, Ozer said. Other programs have addressed mentoring and tutoring to ensure children are ready for kindergarten, increasing literacy rates, attendance and academic success while avoiding risky behaviors, she said. Between 400 and 600 youngsters come to the club every day.
Since being hired by the Boys & Girls Club last fall, one of Ozer's proudest achievements was helping to secure a Science, Technology, Engineering and Mathematics (STEM) grant, she said. Ozer said she would work to expand its services.
"We are implementing new mentoring and volunteer programs thus looking for an increase in community involvement," she said.
Prior to joining the Boys & Girls Club, Ozer served as senior vice president of resource development and community engagement of United Way of Westchester and Putnam and regional vice president of the Manhattan office of the American Cancer Society, leading fundraising and programming initiatives.
Ozer has been involved in philanthropic endeavors throughout her life, serving on a wide assortment of non-profit boards and committees including the American Diabetes Association and the American Cancer Society.
The CEO post has replaced the executive director position because "philanthropy is a business," Ozer said.