Chappaqua Performing Arts Center Will Open Its Doors in Late September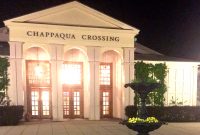 With a month away from the grand opening, the Chappaqua Performing Arts Center is gearing up for its inaugural fall season.
The Chappaqua Performing Arts Center, formerly known as the Wallace Auditorium at Chappaqua Crossing, will re-open its doors on Sept. 23, debuting the first of 12 concerts, plays and performances slated for the upcoming months.
"We've put together a great lineup for everyone from kids to adults," Theater manger John Fanelli said. "Everyone I've spoken to all seem so excited about the theater opening and I can't wait."
Since the Town of New Castle saved the 13,000 square-foot theater from demolition last year, collaborative efforts have been made to transform the facility into an upscale venue that will showcase original plays and musicals, cinema classics, comedians, lecture series, children's programs, acclaimed musicians, and local talent.
New Castle councilwoman and chair of the New Castle Arts & Culture Committee Lisa Katz, who oversaw the acquisition of the arts center, said she's thrilled the community will have an art institution it can be proud of.
"We were lucky we were able to save this theater from demolition, now we have the chance to offer people of all ages an opportunity to enjoy first class entertainment in their own backyard," Katz said.
Fanelli agreed stating the 425-seat venue is one of the best in the area and will appeal to the entire region.
"I think this theater will be a success because you don't have to drive to Manhattan for this type of entertainment," he said. "Ultimately, we want to make this a performance destination that will allow people to come and witness an outstanding array of live entertainment that can be enjoyed by the entire family."
Jazz singer Cyrille Aimee will kick off the season, with musical talent Sō Percussion, Echoes of Sinatra, Soulshine: An Allman Brothers Experience and children's entertainer Tim Kubart & the Space Cadets following in October.
Classic films like The Rocky Horror Picture Show and Elf will also be featured, with Fanelli promising moviegoers an unforgettable film-watching experience.
"We want to do something that'll be an experience with all of our shows," Fanelli said. "You're not just coming to see a show, we want to add art and interactive opportunities."
Friends of the Chappaqua Performing Arts Center will also hold their inaugural fundraising gala on Nov. 4 raising money for the infrastructure of the theater.
Fanelli also advises community members to be on the look out for additional shows that will be added to the fall lineup, including a production of A Chorus Line in December.
"This venue will be a true gem for this community," Katz said. "The sky's the limit for what we can offer."
Tickets will go on sale to the general public Friday, Aug. 11 at 10 a.m. and can be purchased through Ticketmaster.com or by phone 1-800-745-3000. For additional information visit, www.chappaquapac.org.
2017 CHAPPAQUA PERFORMING ARTS CENTER FALL SEASON LINE UP
9/23   Cyrille Aimee (Jazz)
10/8   Tim Kubart & The Space Cadets (Children)
10/14 So Percussion (Classical)
10/20 Soulshine: An Allman Brothers Experience (Rock)
10/27 The Rocky Horror Picture Show (Film)
10/28 Echos of Sinatra (Swing)
11/2   Matt Schofield (Blues)
11/11 The Greatest Pirate Story (N)ever Told! (Children)
11/4   ChappPAC Gala
12/1   What Fresh Hell Live! (Spoken Word)
12/9   Ragtag Theatre's Cinderella (Children)
12/17 ELF (Film)