Chappaqua Fliers Take Aim at School District in Sexual Abuse Case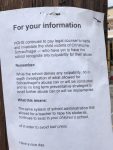 Anonymous fliers circulated throughout downtown Chappaqua last week criticizing the Chappaqua Central School District for allegedly trying to invalidate claims that former Horace Greeley High School drama teacher Christopher Schraufnagel sexually abused students.
Nearly three years after Schraufnagel was arrested, close to 20 fliers blasting school officials for their handling of the matter popped up along the busiest sections of King Street and South Greeley Avenue. With three different messages scattered downtown, one ends, "Your friendly neighborhood rape victim."
The messages, printed on white sheets of paper, claim school officials have refused to take responsibility for Schraufnagel's indiscretions on the Horace Greeley campus to avoid bad press and having to pay the victims.
"HGHS continues to battle and invalidate Schraufnagel's child victims, in an attempt to avoid paying them for the cost of their mental healthcare," one flier read.
Another stated "While the school denies any culpability, no in-depth investigation of what allowed for Schraufnagel's abuse can or will be conducted, and so no long-term preventative strategies to avoid further abuse can or will be implemented."
Superintendent of Schools Dr. Christine Ackerman didn't respond for comment but Board of Education President Warren Messner said trustees did not want to make a statement regarding the fliers and the ongoing lawsuits the district is facing.
David Engelsher, the attorney for four of the plaintiffs in a civil suit against Schraufnagel, said he was heartened to see that nearly three years after the disgraced former teacher's sexual abuse became public, the matter is still being discussed.
"I believe the reason for these fliers is that some of the people feel betrayed," Engelsher said. "You bring your children to school and leave them there for most of the day and expect they will be taken care of and not physically, sexually and psychologically abused as was the case here."
In June 2015, following allegations of improper contact with several of his students, Schraufnagel was suspended with pay until he resigned his teaching post after 12 years on the job. The popular drama teacher was arrested in October 2015 and charged with third-degree criminal sex act, a felony, and six misdemeanor charges.
The following month he pleaded guilty to two misdemeanor charges, endangering the welfare of a child, and a misdemeanor count for sexual abuse. Schraufnagel also admitted to abusing three of his 15-year-old students at Greeley between 2011 and 2015.
Last year he was sentenced to three years probation and mandated to register as a Level 3 sex offender.
Seven students and their families have also filed a civil lawsuit against the former teacher and the Chappaqua School District, describing how students were subject to sexual, verbal and physical abuse and harassment by Schraufnagel while on school grounds and that he provided illegal drugs and alcohol to students.
Community members who buzzed about the fliers and the school district's inaction on social media believe the posters are a cry for help from one of Schraufnagel's victims.
One parent, who wished to remain anonymous, charged that the school is poorly run by leaders who retaliate against students by refusing to provide guidance, advanced classes and college recommendations if parents or students speak out against the district.
"I feel like we taxpayers are more like inmates in a prison (and) complaining just makes things worse," the parent said. "Our only control as school district residents is the school board, and of course they are trying to protect themselves legally, so we have no advocate."
Engelsher had hoped the school district would have reached some closure to the case by now but said they have continued to deny any knowledge of the events.
"By not resolving the matters, the district is forcing the children to testify about extremely sensitive and personal matters," Engelsher said. "Maybe this is what prompted the circulation of the fliers."