Changes May Be on the Way for Thornwood Legion of Christ Property
We are part of The Trust Project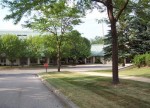 There may soon be some movement at the Legion of Christ property in Thornwood, but Mount Pleasant Supervisor Joan Maybury and a spokesman for the organization declined to provide details this week.
During a town hall forum on July 8 held by Westchester County Executive Rob Astorino, Maybury said she anticipated new information regarding the property to be made public within the next six months.
Asked to elaborate about the future of the 265-acre parcel, Maybury declined to comment.
"There is nothing to confirm or comment on at this point, regarding the Legion of Christ property," Maybury said.
A Legion of Christ representative also declined to address the status of the land last week.
"As you know, the property is for sale. I can't make any comments about possible developments," said Jim Fair, communications director for the Legion of Christ.
A potential sale of the property off of Columbus Avenue would have important tax ramifications for the town. The property is currently tax exempt, but Maybury said last year if it were returned to the tax rolls, the land would generate about $700,000 a year in property taxes,
The parcel is currently used as a training and conference center for the Roman Catholic religious order.