Chamberlain Supporters Reject White Plains Police Procedure Analysis
We are part of The Trust Project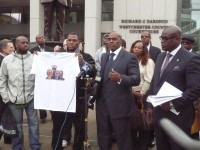 Kenneth Chamberlain Jr. and his lawyers held a press conference Wednesday morning along with other interested parties to denounce a recent report, which reviewed and analyzed White Plains Police Department policy and activities. In the independent report solicited by White Plains Mayor Thomas Roach, it found that the death of Kenneth Chamberlain, father of Chamberlain Jr., on Nov. 19, 2011 was justifiable by police.
In an emotional hour-long press conference in front of the Westchester County Court House in White Plains Wednesday, Chamberlain Jr. and other speakers called for justice and requested the U.S. Department of Justice and the FBI conduct a review of the White Plains Police Department. Pertaining to the portion of the report that reviewed the Chamberlain shooting, speakers noted multiple deficiencies.
Damon K. Jones of Blacks in Law Enforcement of America said the groups at the press conference, which also included the New York Civil Liberties Union (NYCLU) and the NCAAP were there to express their "outrage" regarding the report. He also said the "one-sided" report is far from any conclusion needed in order for the city government and community to move forward.
"In essence, the paper is not worth the ink that's it's written on" Jones said. "This report here shouldn't be called an analysis of the police department. It should be 'Police 101 for Dummies' because they're taking the taxpayers of Westchester County and they're taking the citizens of White Plains for dummies with this report."
Jones also said Mayor Roach should be "ashamed."
Roach who made a statement when the report was released had no further comment, senior advisor to the Mayor Karen Pasquale said.
Kenneth Chamberlain also spoke on behalf of the Chamberlain family and said his father was a victim of a crime.
"The crime was murder," Chamberlain Jr. said. "The perpetrators of the crime just so happen to be members of the White Plains Police Department and they should not be treated any differently than anyone out there."
The 83-page report cost the city $25,000 and took over four months to complete.
One of Chamberlain's attorneys said that the report dedicated just 11 paragraphs to the incident.
The report left some information out regarding the Nov.19 incident, said Daniel Berger of the NYCLU.  One of which, was a racial slur directed at Mr. Chamberlain before police entered his apartment. Also, Mr. Chamberlain's niece, who was at the scene trying to intervene, was also not mentioned in the report.
Jones said he would be at a Nov. 5 Common Council meeting, along with others at the press conference to speak regarding the report.
To view related news concerning the White Plains Police Department report read "Independent Report Vindicates Police in Chamberlain Shooting" at  http://www.theexaminernews.com/?p=23093