Chamberlain Son: Police 'Murdered My Father'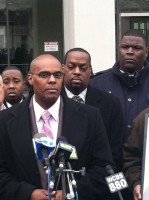 By Pat Casey
"It is very clear White Plains Police killed my father," Kenneth Chamberlain Jr. told reporters at a press conference Wednesday afternoon outside the Westchester County Court House in White Plains.
"[The use of] disparaging and racial comments tells me that there were no reasonable officers on the scene during the time of this incident. This is a hate crime, and they murdered my father," Chamberlain Jr. said, emphasizing a statement made in a press release distributed during the media conference. "The officer and his superiors should be held accountable."
After reviewing videotape from White Plains Housing Authority cameras and the Taser used by police to subdue 68-year-old Kenneth Chamberlain Sr., who was fatally shot on November 19, 2011, during a police response to a medical emergency call at his apartment in the Winbrook Housing complex, Chamberlain Jr. said he determined there was nothing he could see to encourage the dozen officers responding to take the actions they did that resulted in his father's fatal shooting.
The wrongful death suit will claim that when Chamberlain Sr., a heart patient, refused officers entrance to his apartment, explaining that the medical alert device he was wearing was accidentally triggered, the officers aggressively demanded to be allowed inside, ignoring assurances by both Chamberlain and the medical alert company that there was no need to pursue the matter.
After the shooting, police said Chamberlain Sr. had come after police first with a hatchet and later with a kitchen knife. He was fatally shot only after a Taser and bean bag shotgun failed to subdue him.
"We feel that all department guidelines were followed and all procedures were properly followed," Public Safety Commission David Chong said in a press conference held the morning of the shooting. "What I can tell you is that it appears that every avenue was used before the officer had to fire his service weapon."
Chamberlain Jr., however, said Wednesday that after taunting his father for about an hour, when police finally pounded the door down, the video clearly showed he was standing six to eight feet away from the door, wearing boxer shorts, no shirt, and his hands were down at his sides. There was no view of a weapon, Chamberlain Jr. said. He did not leave the apartment and the police entered.
"If the officers responding felt threatened, why did they enter the apartment? Why didn't they remain at the door? One officer was wearing a complete body shield. Who could feel their life was threatened? I want to see them defend themselves in front of a jury," Chamberlain Jr. said.
Mayo Bartlett, an attorney representing Chamberlain Jr., said, "It is important to remember that the police were responding to a call for medical assistance and not a crime in progress."
Rudolf McLaughlin, of the law firm Newman Ferrara LLP, representing the deceased's estate, emphasized that they were not anti-law enforcement but that people should be safe from law enforcement.
On Wednesday, a notice of claim was filed at the State Supreme Court, declaring the intention of the deceased's estate to sue the City of White Plains, City of White Plains Department of Public Safety, and White Plains Housing Authority for the wrongful death of Chamberlain Sr. The claim strongly suggests that EMS and police responders should have been able to determine they were not in danger and questions their training.
On Wednesday, Chong told The White Plains Examiner: "I have stated all along that we will do a thorough and in-depth investigation and review. That has not changed. The case is being readied to be presented to an independent grand jury. In fairness to all I will wait until the grand jury does their job and returns their finding before I make any further comment."
There was no comment from White Plains Mayor Roach's office nor from Mack Carter, the director of the White Plains Housing Authority.