Challenger Mike Duffy Seeks a Chance in the 92nd State Assembly District
We are part of The Trust Project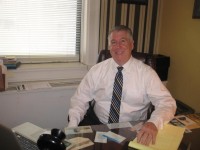 Mike Duffy, 62, is running for the 92nd New York State Assembly District, challenging Democratic incumbent Tom Abinanti.
"A seat in the New York State Assembly is the people's seat," Duffy says, adding that after years of working in law enforcement he now wants to focus his attention on a different area of public service.
"I've always had an interest in politics," he said. Duffy's first political run was for a district leader position with the Republican Party in 2010. "That's how I got my feet wet with the local party," he added.
In 2012 he decided to run for a seat on the Mount Pleasant Town Board; he's lived there for 22 years. Throwing his hat in the ring a bit too late, Duffy says he missed out on the opportunity as another candidate beat him to it and won the party's nomination.
Then in 2013 he began speaking with several party officials and they gave him the nod at the GOP convention in May to run for a seat on the state assembly. An endorsement by the Conservative Party followed soon after.
Duffy also says it doesn't hurt that Westchester County Executive, Rob Astorino, the Republican gubernatorial candidate, also shares the same home town, Mount Pleasant.
Duffy smiles when he says he has not left the 10601 zip code of downtown White Plains too often. He was born and raised in White Plains, went to St. John the Evangelist School on Hamilton Avenue, then Stepinac High School, followed by John Jay College of Criminal Justice, part of City University of New York.
Later he attended Pace Law School, obtaining a law degree, where his big interest was land use law, although his current focus as an attorney is criminal defense.
Duffy became a White Plains Police officer in 1972 assigned to the Patrol and Detective Divisions, serving on the Street Crime Unit and Vice Control Unit. His work there involved narcotics, prostitution and gambling violations.
In 1985 he went to the Westchester County District Attorney's office as a criminal investigator. In 2004, he retired, began work at a White Plains law firm as an associate and in 2006 he struck out on his own. His law office is located in the White Plains downtown, within walking distance of the courthouses.
Duffy is also a member of the Mount Pleasant Industrial Development Agency.
On the issues, Duffy says the property tax question is key. "In every municipality you hear that property taxes have to be driven down by controlling mandates at the state level." As a fiscal conservative, he believes the towns should control their own budgets. "You can't waste people's money," he said.
Duffy agrees with the 2 percent tax cap and believes Medicaid payments should be taken on by the State, relieving the counties of the burden.
While Duffy supports most of the 10 points of the Women's Equality Act and thinks equal pay for women is a no-brainer, he is not a supporter of late-term abortions. "That is a deal breaker for me," he said.
Referring to Indian Point, Duffy feels that for the most part nuclear power plants are fairly safe. He's generally in favor of hydro-fracking, although he acknowledges the verdict is still out in New York and doesn't want to promote any technology that damages the environment or harms people and their property.
He likes the idea of alternative and renewable energy sources like wind and solar power, but is not sure what the energy return is. "If clean energy can produce the same amount of power as traditional sources, then go with the clean energy," he says.
On Common Core education, Duffy considers there are good parts and bad parts to the program. Admitting he's not an education expert, Duffy would like to see the program re-evaluated.
As far as the new Tappan Zee Bridge goes, Duffy believes a toll increase up to $14 would have a negative impact on the local economy. He would rather see Light Rail Transit on the new bridge rather than the planned Bus Rapid Transit. "Buses will be stuck on the bridge with the rest of the traffic," he said.
Coming from a strong background in public safety, Duffy said he would totally repeal the SAFE Act and rebuild the law. "I call it the so-called safe act because it doesn't make anybody safe," he said.
"It's a bad law, passed in the middle of the night. Nobody wants mentally ill people to have guns. Westchester County already does a mental health check and a criminal and background check. The legislation did not exclude law enforcement, who were carrying 15 rounds in their service weapons, criminalizing them overnight. I think we are gong to see much of the law found unconstitutional as time goes by. We have the 2nd Amendment in this country and there is a reason for it."
Duffy would like to see term limits of about eight years for all state seats. That is enough time to get things done, he said. "Unlimited terms breed corruption, and politicians begin to feel the seat is theirs, not the people's seat. The 92nd District seat has been democratic for a long time. It is time for a change."