Cell Towers Proposed in Mahopac Slammed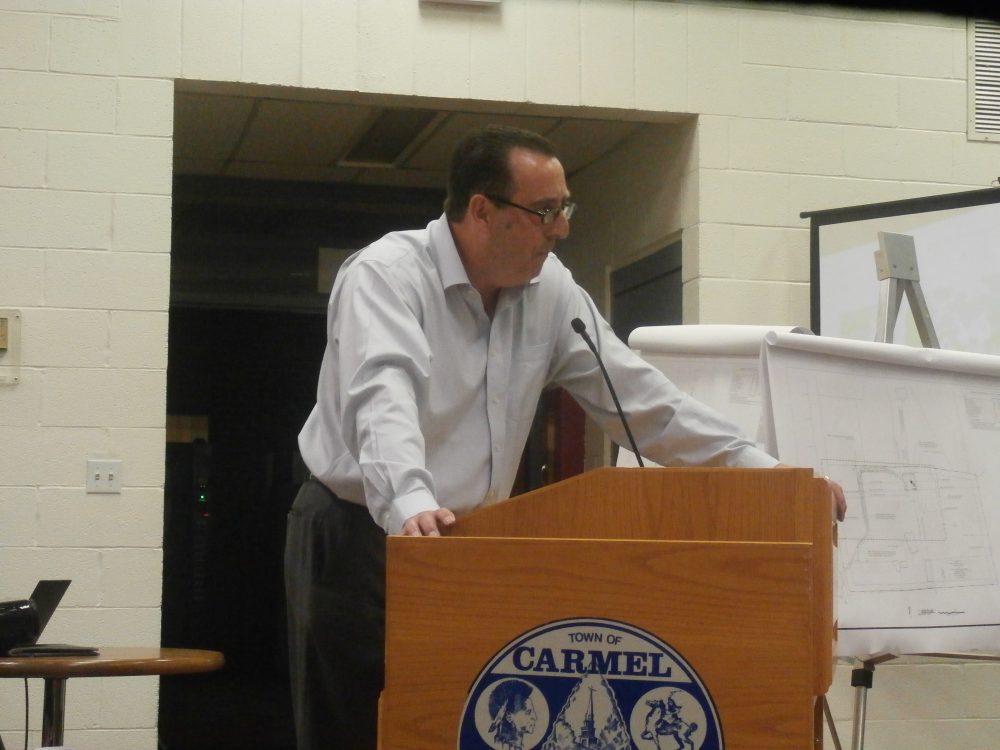 The two proposed cell towers were panned by residents that live near the 254 Croton Falls Road site and the 26 Dixon Road site with fears that the monopoles could drive down property values and ruin the aesthetics of the neighborhoods during a public hearing of the Town of Carmel Planning Board last Wednesday.
Both the planning board and zoning board of appeals would need to sign off on the towers in order for them to be erected in residential neighborhoods. The public hearing remained open so more residents could comment at another planning board meeting next month
Homeland Towers proposed the two towers, which would be built on private property, about a year ago, claiming the structures are needed to fill gaps in service in those areas. The Croton Falls Road tower was originally proposed to be 180 feet, but has now been reduced to 140 feet and the Dixon Road tower was originally pegged for 156 feet, but has now been lowered to 110 feet. Still, both towers exceed the height allowable under town code, meaning variances need to be granted.
Residents living near the towers came out swinging Wednesday.
Mahopac resident Gail Fiero said the application for the Croton Falls tower might need to be redone because her property might be placed on the State/National Register of Historic Places. If it is placed on the registry, it could complicate matters for Homeland, she said.
"I don't know anyone that would want this (cell tower) that cares about their family," Fiero said.
Mahopac resident Emmeline Swanson said the proposed cell tower near her home made her and her partner rethink whether or not they want to live in this area long term.
"We are not prepared to have our home value adversely affected so others can collect a check," she said. "Commercial activity of this scale in nature has no place in residential areas."
Mahopac resident Ron Leviner said it struck him as odd when the property owner that planned on leasing his land to Homeland Towers was granted a past variance by the town even though he didn't disclose a possible future deal with Homeland. Now, the property owner is looking for further variances to accommodate the cell tower he wants to rent on his land, he said.
Leviner also questioned Homeland's analysis of property values and coverage issues. Homeland has put forth a study that claims property values increase for homes near cell towers.
Mahopac resident Jennifer Simon asked why a site that is low on the town's priority list for a monopole would be selected as a proposed tower location.
She conveyed skepticism over the study offered by Homeland that shows property values increase for homes near cell towers. Simon said real estate groups and policy institutes generally state there are adverse social welfare effects and that property values go down near towers.
Attorney for Homeland Towers, Robert Gaudioso, of Snyder and Snyder, declined comment after the hearing.
Mahopac resident Robert Montanaro, who spoke on behalf of all the concerned residents near the Dixon Road tower, slammed the proposal and challenged Homeland Towers' claim that property values actually increase when a cell tower is placed in their neighborhood.
Montanaro said he and other residents spoke with a half dozen realtors that work locally that all stated that if the tower is built, it would decrease property values for homes in the proximity. There are 30 homes in the immediate area where the tower is proposed, Montanaro said, that range from $400,000 to $700,000. Those 30 homes pay close to $500,000 in property taxes yearly, he noted.
Believing that the information provided by Homeland Towers about increased property values for homes near monopole is skewed, Montanaro said it should make the planning board question the credibility of all the of information Homeland is offering.
Montanaro also noted the tower would destroy the beauty of the neighborhood.
"Some (neighbors) have simply said they just want to sell and get out," he said.
What makes the situation worse is the rent Homeland Towers is paying for the Dixon Road monopole will go toward to a private individual, Montanaro said, rather than if the tower was on public property where the town could collect the money.
"I would describe this as a bad, bad deal," he said.