Celebrating Brenda Connor-Bey Miller, Greenburgh's Poet Laureate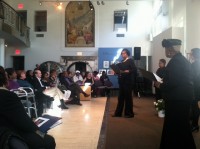 Saturday afternoon at ArtsWestchester in White Plains a solemn yet inspired group gathered for a memorial event to celebrate the life of Brenda Connor-Bey Miller.
Ms. Connor-Bey Miller was the first Poet Laureate for the Town of Greenburgh from 2006 to 2010. A program for the event said she was appointed to that position for her body of work, contributions to the field of poetry, and encouragement and support of poets and writers of all ages. She continued to exhibit those traits until her death on August 18, 2012.
Janet Langsam, Executive Director ArtsWestchester, welcomed those gathered. "Brenda was a mainstay of our teaching artists community," she said.
Nikki Williams, who referred to Connor-Bey Miller as "sister," had prepared a multimedia presentation with excerpts from her work that illustrated Miller's use of poetry as a healing tool. "I did not intentionally choose to bring spirit into my work. … I believe that within my poetry is a search for rectifying some wrong. … to share with each other this light that glows within all of us," Connor-Bey Miller was quoted.
Sarah Bracey White, Executive Director Greenburgh Arts and Culture Committee, who had appointed Connor-Bey Miller as Poet Laureate of Greenburgh, said: "She [Miller] is still busy within my life."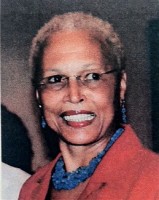 Connor-Bey Miller wrote with soul about the lives of people who came to New York from poorer parts of the world to find a new life. Hums of deep-felt acknowledgment and recognition were uttered as her words were read aloud by numerous friends. "They come to the belly of a woman called Harlem," she wrote.
Connor-Bey Miller was the author of "Thoughts of an Everyday Woman/An Unfinished Urban Folktale," a collection of prose and poetry and a collection of poetry, "Crossroad of the Serpent." Her work appeared in "Confirmation: An Anthology of African American women (William Morrow & Co.) edited by Amina and Amiri Baraka, "Working Classics: Poems on Industrial Life" (University of Pittsburgh Press), and Obsidian II: Black Literature in Review (North Carolina State University).
Connor-Bey Miller's material also was used in performances by Black Women in Theatre, the Lincoln Center Performance Ensemble and has been included in the play "her Talking Drum" at the American Place Theatre in New York City.
As an Arts Westchester teaching artist for more than 20 years and a participant in their Arts Excel program, Connor-Bey Miller specialized in designing and facilitating professional arts-in-education development workshops for educators. She led residencies at Hawthorne Cedar Knolls/Linden Hills Middle and High Schools, Pierre Van Cortlandt Middle School. She conducted residencies at the Neuberger, Hudson River and Katonah Museums. She was an adjunct professor of creative writing at Marymount Manhattan College and taught creative writing with Greenburgh's Kids' Short Story Connection and the Hudson Valley Writers' Center.
"Learning to See" is Miller's legacy project. The Workshop Series focuses on ekphrastic creative writing and explorations of all art forms as well as other ways to "see." Partially funded by Poets & Writers, Inc., The Theodore Young Community Center, the Friends of the Greenburgh Library and Greenburgh Arts and Culture Committee, these workshops are free and open to the public. The 2012-13 workshops are in session. Beginner as well as established poets are welcome. More information can be found by visiting /www.greenburghartsandculture.org.