Castelli, Local Students Call on Congress to Stop Interest Rate Hike
We are part of The Trust Project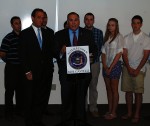 With less than a month to go before interest rates on student loans are set to double across the country, Assemblyman Robert Castelli is calling on Congress to take action to stop the rate hike.
Castelli (R-Goldens Bridge), who is sponsoring a memorializing resolution in the Assembly to that effect, held a press conference Friday at Berkeley College in White Plains pushing for bipartisan action to pass legislation to prevent the rate from jumping from 3.4 percent to 6.8 percent on July 1.
"In America today, we have a crisis with student loans. There is over $900 billion in student loans outstanding," Castelli, standing in front of a handful of high school and college students, said Friday. "If we are going to launch our students into an economy that is healthy and vibrant, we can't do this if we saddle them with debt."
In 2007, President Bush signed the federal College Cost Reduction and Access Act, which established the current rate. Both Democrats and Republicans voted for the legislation, but this year the two parties have had trouble agreeing on a way to pay for keeping the rate at its current level.
Castelli said he has sent a memo to Reps. Nita Lowey (D-Harrison) and Nan Hayworth (R-Bedford) urging them to act immediately.
Senate Majority Leader Harry Reid (D-Nevada) has proposed two solutions, one which would up employers' insurance premiums on underfunded pensions and another that would limit companies' tax deductions for pension contributions. House Republicans have suggested funding the extension by lifting the rate federal workers pay into their pensions over the next three years. The House has also passed legislation that would stop the rate increase by taking money from a fund in the 2010 Affordable Care Act.
Hayworth agreed it was essential for the House and Senate to get something done before the June 30 deadline but said she was against Reid's plan.
"From my point of view, it's preferable not to add anything onto the burden of those who are working and those who are employing others," she told The White Plains Examiner. She favored repealing the fund within the Affordable Care Act, saying it was not essential and that its "purpose was ill-defined." She was confident, though, that the Senate and House would come to a solution before the rates rose. "I think there's tremendous will in both the House and the Senate," she concluded.
Lowey also stressed the importance of getting a deal done.
"It is imperative that Congress protect student access to affordable education in this tough economy," Lowey said in an e-mail. "As a cosponsor of the bill to extend the lower interest rates, I urge my colleagues to continue to work towards an agreement before July 1. Students and families cannot afford the price increase that would result from higher interest rates on student loans. Congress must act immediately on this critical issue."
Castelli didn't offer support for any specific plan to pay for the extension but said he hopes "that partisan politics is not the reason for the stumbling block here." President Obama has called on Congress to pass a bill to keep the rate at 3.4 percent.
Sydney Zepf, a senior at Byram Hills High School in Armonk headed to the University of Notre Dame next year, said she joined Castelli at the press conference because she believes letting the rates double would have a negative impact on students.
"Unfortunately, many people that I know are having to take out student loans and it affected where they could choose to go to college," Zepf said. "I know a lot of people who got into great schools but unfortunately weren't able to afford the high cost of it."
Castelli was joined by Bob Cohen, a Republican running for the New York State Senate in the 37th Senate District seat being vacated by Sen. Suzi Oppenheimer. Cohen echoed Castelli's call for bipartisanship in Washington.
"We know that if we raise those interest rates, that students will have to drop out," Cohen said. "So we have to work doubly hard to make sure that does not happen."
If no action is taken, around 7.4 million students will be affected.