Carvin: Russell a 'White Separatist Anti-Semite'
We are part of The Trust Project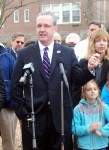 Though Rye Town Supervisor Joe Carvin received the backing of the Westchester and Rockland Republican Party and has been the presumptive candidate to take on Rep. Nita Lowey since April, he's not taking a win in the June 26 Republican primary for granted.
His opponent in the primary race is Hawthorne resident Jim Russell, a six-time candidate for Congress and the Republican nominee in 2010. Though Russell was on the Republican line last time the seat was up for grabs, the party abruptly dropped its support for him after a 2001 essay critical of racial integration drew scrutiny.
In a press release sent out last week, Carvin demanded Russell agree to debate him before the primary and either defend or back away from his writings.
"I find what he has written so reprehensible," Carvin told The White Plains Examiner, calling Russell a "white separatist anti-Semite." He added, "Anybody who's read that essay has to come away terribly concerned about his viewpoint."
Russell's 2001 essay, entitled "The Western Contribution to World History," appeared in Occidental Quarterly, a far right publication that has been called "racist" by the Anti-Defamation League and other organizations. Russell's writing is critical of interracial relationships and states that parents have the responsibility "to instill in their children an acceptance of appropriate ethnic boundaries for socialization and for marriage." He also quotes T.S. Eliot's description of a perfect society, saying "reasons of race and culture combine to make any large number of free-thinking Jews undesirable."
Russell, who has said his writings have been misrepresented and taken out of context, said last week his essay was about the effects of forced integration and called Carvin's statement "erroneous."
"In no way am I a racial separatist," he said. "To extract one sentence or a word or something and take it out of context is unfair."
Russell said he was instead urging racial "continuity" in his essay and looking to counter a narrative that's been advanced by the media.
"Haven't you ever heard people say, 'I hope my son finds a nice Jewish girl, Italian girl,'" he asked. "It's not uncommon."
Carvin, though, argued Russell's writings seem to warn against not just interracial relationships but any socialization that could lead to attraction to a different racial group. For example, Russell criticized the 2001 film "Save the Last Dance," about an interracial romance, saying it "exploit[s] the critical period of sexual imprinting in their target audiences of white pre-adolescent girls and adolescent young women."
Carvin, whose wife is black, said he feels Russell's writings "delegitimize my children."
Russell said he hoped to focus the campaign on the issues facing the nation and the district, including protecting Social Security and Medicare, improving the region's transportation and building a new Tappan Zee Bridge. He blasted Carvin, a hedge fund manager, for bringing up the controversy and called it a sign of desperation.
"This really makes me change my estimate of Mr. Carvin," Russell said. "Previously it was a difference of political viewpoints, but this would make me question his character as well."
Russell said he was happy to debate Carvin but questioned why he wasn't asked directly, noting he had met Carvin–who he called a "liberal millionaire"–on several occasions. Carvin acknowledged he hadn't yet called Russell but said he planned to do so.
"I thought he was an awfully nice guy until I read his essay," Carvin said.
Carvin and Russell, who worked as a computer programmer at AT&T, are vying to take on 12-term incumbent Lowey (D-Harrison). In 2010, Lowey topped Russell with 61.7 percent of the vote. She's consistently been re-elected by more than 15 points, though Republicans hope that with re-districting–all of Rockland County will become part of what will now be called the 17th Congressional District–the seat can be competitive this year. The district, though, remains heavily Democratic.