Carvin GOP Committees' Pick to Take on Lowey
We are part of The Trust Project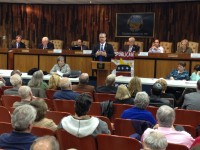 The Westchester and Rockland Republican committees were unanimous Tuesday night in their backing of Rye Supervisor Joe Carvin to take on Rep. Nita Lowey (D-Harrison) for her seat in what will become the 17th Congressional District.
Carvin, who is exploring abolishing town government in Rye, was nominated Tuesday night at Clarkstown Town Hall in New City by Anthony Melé, who had previously considered a run. Carvin, who dropped his run for the U.S. Senate earlier this month, was unanimously supported in a voice vote with more than 100 Republicans in attendance.
"I'm running for Congress because I have a deep concern about the future of the United States," Carvin said.
Carvin, who comes from a business background, was elected supervisor in 2007, beating incumbent Democrat Robert Morabito with 59 percent of the vote. He was re-elected last year, topping Democrat Rico Dos Anjos with 62 percent of the vote. Democrats have a significant edge in voter registration in the town, as the party has 8,653 active voters compared to 5,681 Republican and Conservative voters.
Lowey, first elected in 1988, is currently in her 12th term. With the districts changing, the 17th District now encompasses all of Rockland and much of Westchester. Democrats have a significant advantage in voter registration, and in her last several runs Lowey has topped 60 percent of the vote.