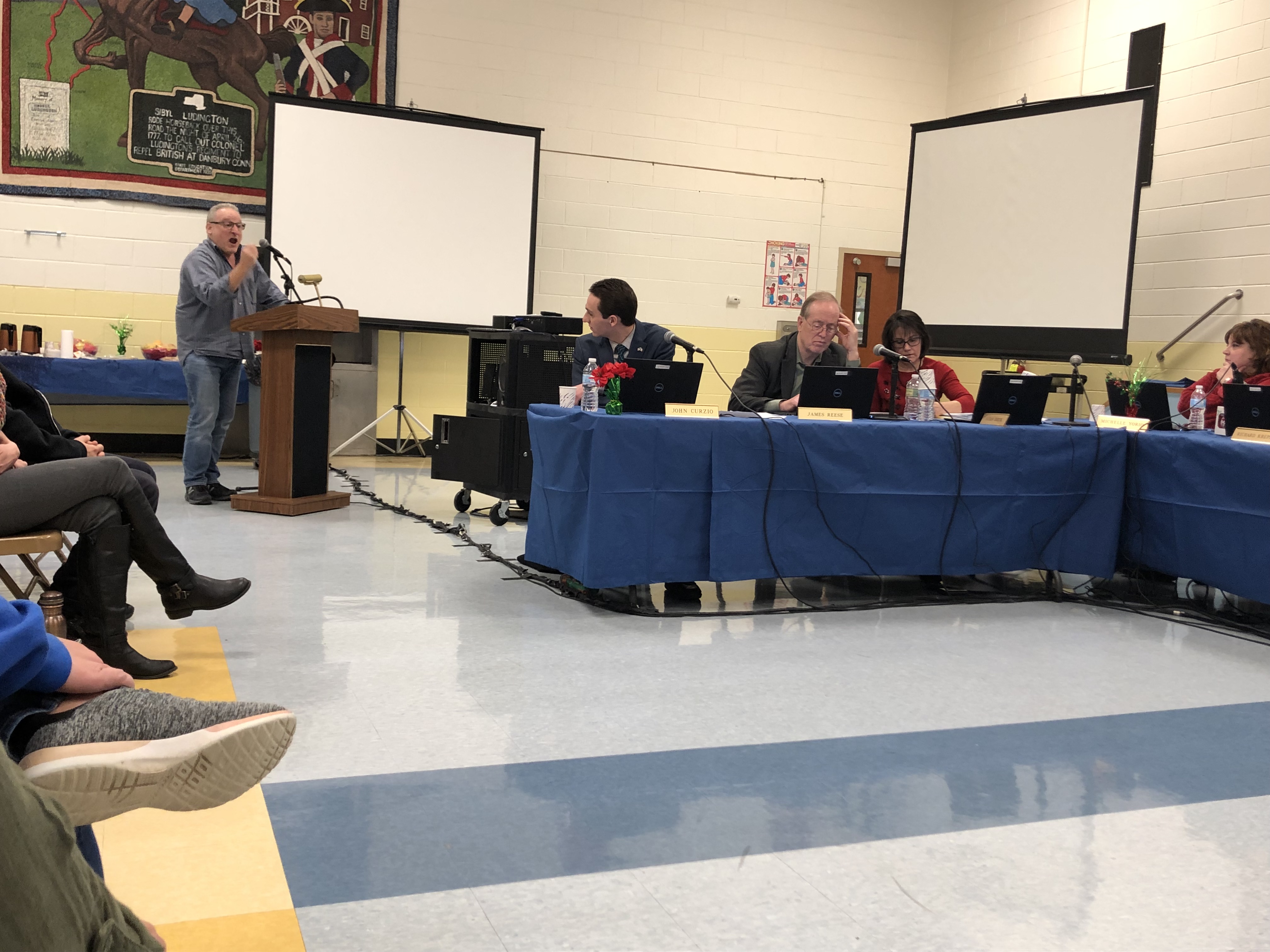 This year will end the same way it began for the Carmel Board of Education as members and residents bickered and squabbled over a bond proposal that has led to exhausting infighting with much of the fury directed at one trustee.
As board members and residents anticipate the district's third bond proposal vote next year on items that would enhance the district, a mixture of anger and desperation filled the auditorium at Matthew Patterson Elementary last week from those who don't want to see another referendum fail.
The school system has already offered two bonds, but both have been voted down. One was shot down in Dec. 2017 and the other was rejected narrowly in October. Following the October vote, residents came out in droves urging the board to place the bond up for another vote.
Residents and board members have also taken aim at board member John Curzio over the last year for his opposition to a portion of the proposal.
During last week's meeting, the board split the latest bond into two propositions. One bond proposition, which passed by a 7-0 vote, would fix failing roofs, make each school building ADA compliant and enhance the middle school library. The other would move the transportation garage from George Fischer Middle School to a parcel of a property in the Town of Kent, which was approved in a 6-1 vote. The vote is set for March.
Despite several in attendance sharing their support for the two bond proposals, over an hour was spent demeaning Curzio for his unsurprising vote against the transportation garage.
"I'm disappointed the bond is being put up in two parts. Splitting it in half really shows a lack of conviction," Kent resident and former board of education member Eric Mittelstadt (who lost his seat in Curzio) said. "Splitting it in half, at least in my belief, is the equivalent of just giving into a child who holds his breath and screams long enough just to get it done. It's unfortunate."
Curzio has continuously expressed reluctance supporting the property chosen for the bus garage, maintaining it would take valuable property off Kent's tax rolls and that the board hadn't vetted other potential properties adequately.
"People have rejected this property on two separate occasions, yet the Carmel school board is seeking yet again to drag it across the finish line at all costs regardless of what the voters think," Curzio said. "Unfortunately, this board has not listened to or accepted the will of the people that we are honored to represent."
Curzio added that board members do not believe in having "two valid" opinions on the matter. He claimed that the board perceives those against the bond as being "uniformed, ungrateful and ignorant of the facts."
"If we were the representatives of the people that this community believed we were when they elected us, this twice rejected property would not be up for referendum discussion for a third time, let alone up for a vote," Curzio said.
Harold Magid who owns the proposed property for the bus depot, stressed to Curzio that he decides who he sells his property to and what development takes place. He said the decision was not up to Kent officials, who have also expressed opposition to the bus garage.
Magid added that Kent officials have been using Curzio as a "puppet" to dictate their agenda and that Curzio is being "disingenuous" to voters, asserting that the transaction wouldn't harm the town's taxes to the extent that has been aired.
"I have kept my mouth shut now for over a year," Magid said. "You passionately plea how the town is being hurt and yet the numbers don't bear it out. So I would wish that you would come clean and be honest both to your board, as well as the citizens of the town and please explain what your agenda is."
Board president Greg Riley eventually instructed Magid to calm down after Curzio refused to answer questions or respond to Magid's concerns, expressing that his character, motive and integrity was being put into question.
While other residents, including Riley's wife, questioned Curzio on his opposition and urged him to listen to the community, trustee Tara DeTurris pressed that she no longer wanted to talk about the bond.
"I'm really sick of talking about the bond," she said. "Let's move forward, let's talk about positive things. I'm tired of all this negative."