News Based on facts, either observed and verified directly by the reporter, or reported and verified from knowledgeable sources.
Carmel Restaurant Owner Targeted with Anti-LGBTQ Hate
We are part of The Trust Project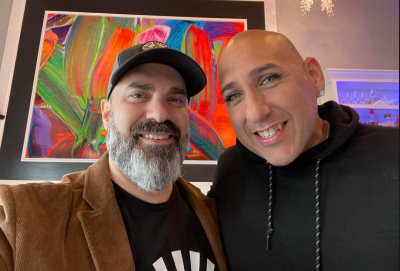 The owner of The Hangout Cafe, a local restaurant in Carmel, filed a police report last week after being the target of anti-LGBTQ hate.
Friends and colleagues have taken to social media to rally to the restaurant proprietor's support.
The owner, Louis Mooney, a father of two children, had been advertising an upcoming May 11 drag night when Tatiana Ibrahim, a prominent and controversial conservative gadfly in the area, apparently heard about the event and accused the local business owner of hosting a "pedO ring show." She also posted several pictures of Mooney.
"Louis Mooney the owner of the Hangout Cafe in Carmel NY where he will be displaying his pedO perversion drag show," she wrote in one post, accompanied by several images of Mooney.
The situation escalated, according to associates of Mooney, with the restaurant vandalized and one of its window panels broken, although the Putnam County Sheriff's Office said the account Mooney provided last Wednesday was more muted.
"One night after leaving the restaurant with his two young children, four trucks blocked him from exiting," musician Erik Rabasca, who has performed at The Hangout Cafe for more than three years, wrote in a social media post. "As he was able to get away, his family was chased, the trucks bumping and damaging his car and menacing them for miles."
Capt. Michael Grossi of the Putnam County Sheriff's Office said Mooney arrived at headquarters last Wednesday, Apr. 26, with his complaint.
"He said that a rock was thrown at his vehicle and there's a small ding on his car," Grossi said.
As for Rabasca's description of events, Grossi said the details don't "match up" to Mooney's account last week. He acknowledged how he couldn't be sure if there might have been any escalation subsequent to Mooney's police complaint.
Grossi has contacted the Bureau of Criminal Investigation (BCI) to probe what he characterized as the newer allegations.
"I already briefed the BCI, and I'm sure they'll reach out to Mr. Mooney and his friends to see if there's any validity to this," Grossi said. "And at that point, they're certainly going to find out whether he went to Carmel or went to the state police to report these other allegations. But when he came here last week, it wasn't part of it."
Lt. Michael Bodo, an administrative lieutenant with the Town of Carmel Police Department, told The Examiner on Monday he was not familiar with the incident.
When asked whether there needs to be a police role to address someone falsely and publicly accusing someone else of running a pedophile "ring show," Grossi noted how it's a grey area.
"You get into a very fine line between a hate crime or First Amendment speech," Grossi remarked.
Sources told The Examiner that Mooney, who has a law degree himself, is exploring his legal options with attorneys.
Asked whether police would be keeping an eye on the May 11 event for safety reasons, Grossi replied: "We'll monitor social media and just make patrols aware that this event is coming up."
"At this point, we're not going to station someone inside the establishment or anything like that," Grossi commented in a phone interview late Monday afternoon. "But like I said, we'll make the patrols aware and we'll continue to monitor on social media to see whether this thing goes anywhere in a bad direction."
Rabasca told The Examiner on Monday why he decided to post to social media and raise awareness about the incident.
"My intent in sharing what happened to Louis on social media was to rally the musicians I know that play The Hangout Cafe to show some love and support and also hopefully get my network to recommend them to any friends and family in the area and get attendance up," he said. "If we can all help make The Hangout a success, then that's a win against ignorance, homophobia and hate."
Mooney, said by friends to be worried about the safety of his children and his own safety, did not reply to requests for comment.
Eileen McDermott, a Brewster resident, addressed the broader issue of LGBTQ hate in a letter to the editor to The Examiner this week.
She said Putnam County's LGBTQ community is "under attack." At Board of Education meetings, she said how community members have called trans people, including children, "sick and perverse."
"As our community moves toward change, there are bound to be loud voices of opposition," she wrote in a portion of her letter. "That's ok. What's not ok is publicly calling anyone who embraces LGBTQ+ identity a pedophile/groomer intent on sexually abusing children. If you support the views of someone who feels empowered to accuse their neighbors of a felony without so much as having ever met them, you might want to rethink your stance."
Christopher Formisano, the communications director for Putnam County Executive Kevin Byrne, said on Monday afternoon that he hadn't previously heard about the incident, and would research the details. He noted how he's not immediately "locked into what the sheriff gets."
On Monday, Ibrahim posted to Facebook about the incident.
"I would like to make clear that NO INCIDENT AND NO PO REPORT WAS EVER FILED," she wrote in her post, while also criticizing Mooney supporters for questioning whether police were taking the matter seriously.