Carmel Highway Employee, Cancer Survivor Chairs Relay for Life
For eight months, Mike Stern had a lump on his neck and wasn't sure what it was.
Doctors were also confounded and as a result, Stern battled weight loss, fevers, chills and aches and such sweating fits he had to go through several shirts each day. Each day for eight months, he lived sickly with uncertainty.
Eventually, doctors at Beth-Israel in New York City discovered what he was dealing with. They diagnosed him with stage four Hodgkin's lymphoma.
The survival rate for stage four of the disease is about 65 percent, but luckily Stern was young enough at 26 to combat the disease. After six months of treatment, doctors deemed him cured.
"Luckily I had my age going for me," Stern, now 29, said. "The doctors did say if I was 40-years-old and had this, I probably wouldn't be here today."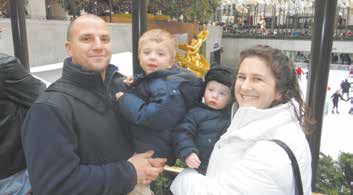 Now Stern, who works for the Carmel Highway Department, is the honorary chair for this year's Relay for Life of Mahopac campaign, which is looking to raise money to find a cure for cancer. Relay for Life of Mahopac will hold its kickoff event on March 21 at 6:30 p.m. While Mahopac's Relay generally raises about $250,000, Stern wants to blow that number out of the water.
This year's kickoff event is carnival themed and will feature a cupcake tasting contest and other activities. The major Mahopac's Relay for Event is scheduled for Saturday, June 1 at Mahopac High School.
While Stern always knew about Relay for Life, his participation was spotty. He admits sometimes it takes a life-altering event like contracting cancer to get more involved.  When Stern first discovered the lump he was hesitant to find out what it was. With his wife, Nicole, pregnant with the couple's first child he didn't want her to worry about more than one thing.
As he waited, the lump got bigger. Finally, Stern started to see his round of doctors, even if they couldn't provide an answer. At one point, his neck got infected during a fine-needle aspiration (FNA), which investigates superficial lumps. After the infection, Stern had surgery to have the lymph node removed and after investigation by doctors, it came back benign.
"So if it's not cancer," Stern recalled asking his doctor. "What is it?" Stern pointed to his thinning hair and joked, "I have no hair right now. That's from eight months of stress; that's not from chemo."
After the initial botched NFA, Stern went yet another time to a doctor at the urging of his wife. This time doctors figured out he had cancer.
After just four treatments of chemotherapy over two months, doctors told Stern he had a clean bill of health, although they still forced him to finish the treatment, which lasted for six months.
And while Stern's age worked to his advantage, he knows the support of his wife, other family members, friends and co-workers from the highway department all helped him fight through a difficult year-and-a-half of both not knowing and then dealing with the treatment.
Now Stern is looking to support others. In fact, when director of special events for American Cancer Society Tracy Walsh was battling breast cancer that was discovered in October 2011, Stern gave her a call and the two eventually talked.
"I was just so inspired," Walsh, who is now in remission, said.
or Walsh, picking Stern represents the idea that there is hope for those people who have cancer. Stern shows that finding a cure is possible.
Stern said being asked to be the honorary chair was one of the nicest honors he's had in his life. The father of two knows that if doctors are provided the necessary funds, they will inevitably find a cure for the deadly disease.
Stern and Walsh also know that showing statistics related to cancer and the hardship it can cause only goes so far. Putting a human face to fight cancer is the key to spur people into action, they said.
"It makes it personal," Stern said. "It definitely makes it personal when you put a human face to it."
This year, that human face is Mike Stern.