Cardinal Dolan Honored by Kennedy Catholic High School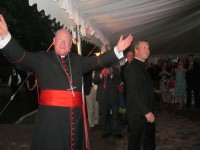 Hundreds of clergy, politicians and supporters of the John F. Kennedy Catholic High School piled into Monteverde at Oldstone in Cortlandt Manor Thursday to support the Somers school and hear remarks by New York Archbishop, Timothy Cardinal Dolan.
Among the dignitaries attending the high school's annual President's Dinner, this year honoring the cardinal, were Westchester County Executive Rob Astorino, Putnam County Executive MaryEllen Odell, former New York First Lady and current Putnam County Director of Tourism Libby Pataki and State Senator Greg Ball.
Odell, who put both of her children through the parochial school system before they went on to attend Catholic universities, said religion plays a critical role for her.
"My faith is very important to me and has sustained me not only as a mom but as a public official," she said. "To do what we do, public service, you have to have that drive and that comes from your faith."
Astorino said the New York metropolitan area is well-served by Dolan, who he called a charismatic and knowledgeable leader.
"He's a rock star and a great spokesman for Catholics in this country," he said. "We are so fortunate that he's our shepherd."
Introducing the cardinal before his remarks, Kennedy principal Father Mark Vaillancourt called Dolan "the chief educator of the flock of the great archdiocese of New York" and presented him with a custom set of gold cufflinks bearing his crest.
Dolan began his remarks with a joke, asking the attendees to stop applauding.
"We priests and bishops and cardinals don't like it when you people applaud because then you're unable to get to your wallets and purses, so I'm glad that's settled," he said, smiling.
On a more serious note, the cardinal said Catholic education holds the possibility to address and cure a host of societal ills.
"I'm looking around at a group of people who very meaningfully aware of the troubles we all have in society," he said. "If you're looking for a way to tackle the major choking problems of society today, you can't do better than supporting Catholic education."
Dolan said those principles were "radiantly exemplified in the sterling work of Kennedy Catholic."
A teacher, community member and the most accomplished members of this year's graduating Kennedy Catholic class were also honored at the reception. The cardinal entered after a procession led by the Knights of Columbus Father Damon Assembly.
Before addressing the gala and receiving the school's Lux Christi, or Light of Christ, award, Dolan posed for photographs and interacted with the event's attendees.
Among them were Kennedy chemistry teacher Mike Rosich and his wife Nanci Coppola.
Rosich said the school's benefits to its student body go beyond mere academics.
"Our school is founded in the Catholic faith. Every classroom, every lesson, everything we do has that feeling behind it," he said. "We use examples from our own lives. I've been married almost 30 years, and that's something we teach our kids to strive for."