Candidates Come Forward for Single White Plains Council Seat
We are part of The Trust Project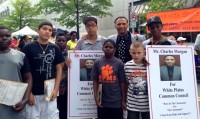 There will be a special election this fall for the White Plains Common Council seat currently held by Nadine Hunt-Robinson, a member of the Independence Party, who was appointed to the position by a unanimous vote of the all-Democrat council in January.
The seat became vacant when former Councilman Benjamin Boykin won the election for the District 5 Westchester Legislature seat, representing White Plains, Scarsdale and West Harrison, and took that seat on January 1, 2014.
The special election is for the remainder of Boykin's council term that would have ended on December 31, 2015.
On Sunday, in an email to The White Plains Examiner, Liz Shollenberger, chair of the White Plains Democratic City Committee explained that while Robinson is not yet a Democrat, the White Plains Democratic City Committee had endorsed her and was filing an authorization allowing her to file Democratic nominating petitions.
However, on Saturday during the Juneteenth Festival, Charles Morgan, a current vice president and long-time member of the White Plains Democratic Committee, was aggressively soliciting signatures for his nomination for the same seat.
Annoyed with internal party politics, Morgan, who had an unsuccessful bid with the party to run for a council spot in 2011, said his intention is to force a primary.
At noon on Saturday, Morgan had about 600 signatures and intended to obtain 200 more that afternoon to put him more than halfway to the needed 1,500 signatures for placement on a primary ballot.
On the Republican side of things, city committee chairman Brian Maloney had petitioned the citizens of White Plains to run for the Council seat, stating on the party's Facebook page that it was not necessary to be a registered Republican to gain the party's endorsement.
Maloney acknowledged that he had extended the Thursday deadline to Sunday, June 15, because of interest by potential candidates vying for the Republican nod.
A June 17 story by John Bailey on the White Plains Citizennet Reporter site says Terence Guerriere, chairman of the Gedney Neighborhood Association has been offered the Republican candidacy for the seat and that he has accepted.
Guerriere is a known opponent of the application by the French American School of New York (FASNY) for a special permit to run a regional school in his neighborhood.
That permit special hearing will begin on July 7. It is not clear if the hearing process will end in a final vote on the FASNY project before or after the winning council candidate takes their seat on January 1, 2015.
Richard Cirulli, who had been considering a run as well, is undecided about whether or not he will challenge as an independent or wait for the next election, based on a brief conversation with The Examiner on Tuesday morning.
Cirulli had unsuccessfully run for a Council seat on the Republican ticket during a previous election.