Byram Hills Honors its Young Scientists at School Research Symposium
We are part of The Trust Project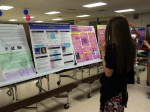 Byram Hills High School has had a long and proud tradition of having one of the most successful original science research programs in the region. Over the years, students have been recognized not only at the school but with much success at the prestigious Intel Science Talent Search.
The program's influence was displayed once again on June 6 when the school hosted its 23rd annual Science Research Symposium. Students, teachers, district officials and parents gathered to honor the three years of tireless work and accomplishment of the graduating seniors, as well as the underclassmen rising to take their place and continue the legacy.
There were introductions from the younger science research students and Principal Christopher Borsari.
"The growth in the program has been absolutely incredible," Borsari said.
While the program has certainly grown since it was launched by Dr. Robert Pavlica, a former biology teacher at the school who is honored at the symposium every year, it's also the participating students who mature emotionally and intellectually. Rebecca-Lily Michell, a senior who will be attending the University of Chicago in the fall, gave a speech describing her tumultuous journey of learning to handle the number of difficulties she encountered.
Science research teacher Ken Kaplan said the most important part of his job is to "point out the need for perseverance, because there are so many highs and lows." About 50 sophomores join the program each year, but many are intimidated by the heavy workload expected of them, he said. Typically, about 20 students remain at the end of the three-year run.
Retiring superintendent Dr. Jacquelyn Taylor, who delivered the keynote address at the awards ceremony, said that the science research program is not only an academic exercise, but an authentic life learning experience as well.
"Students acquire the ability to deal with disappointment and failures, and to have resilience," Taylor said.
The awards ceremony highlighted the success of the program, celebrating the school's three semifinalists in this year's Intel Science Talent Search: Sammi Rose Cannold, Jesse Honig, and Aurora Xu. Xu was also the recipient of the Abe Shahim Science Research Award, which is given to a student who recognizes that pure science takes endless hours of work.
Xu's project, "A Reanalysis of Refractive Growth in Pediatric Aphakia and Pseudophakia," helped develop and test a new model for measuring refractive growth of eyes of children from birth to 10 years old.
"I learned that science is a cumulative process," said Xu, who will be heading to Yale University in the fall. "It's important to discuss with others, like talking to other ophthalmologists."
The night ended with sophomore presentations, a testament to the program's consistent popularity as Byram Hills research science students are eager to take on the enormous responsibility that is expected of them. Adam Ingber, one of the sophomore presenters, admitted he was nervous when he started the program earlier this year. But then he added, "Within the first few months, I was hooked."
By Sarena Malsin