Business Profile: Pawfection, Bedford Hills
Giving pets the kind of grooming that will keep them and their owners happy is the goal of Tara Santorelli, owner of Pawfection, a pet grooming business located in the heart of Bedford Hills.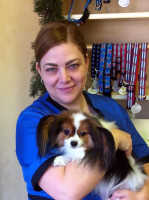 Santorelli, who has been serving clients in the area for 16 years, has a passion for her work. The Yorktown native has been an animal lover her whole life. As a high school student she helped at a local pet grooming business and after graduation worked full time for that establishment.
There's more than a love of animals required to be an effective pet groomer. Patience and attention to detail are mandatory. Cats and various breeds of dogs are catered to at Pawfection, with some clients traveling from as far away as Manhattan to have their pets groomed.
Santorelli and her staff of three include Gisella Burra, who has worked for Santorelli for five years; Brittany Kanuk, who came to Pawfection a year and a half ago; and Linda Horner, who's been with Santorelli for the past nine years, but is actually a 32-year veteran of the industry.
Pets are washed and shampooed with products that are suited to specific breeds. Special attention is paid to all of the cleansing agents and conditioners.
"A clean dog that is properly moisturized will make the groomer's job much easier," said Santorelli, who selects the type of shears, combs, brushes, clippers and blades for each dog. While each animal's hair is wet, Santorelli checks for ticks and fleas.
Dogs who are brought in by their owners come in all breeds and sizes including some as small as 25 pounds. Santorelli said the most popular may be the Labradoodle, a cross between the Labrador retriever and the standard or miniature poodle.
Grooming cats is much more difficult and takes patience on the groomer's part, said Santorelli, a member of The Professional Cat Grooming Association of America.
"I can't do anything with a cat if it doesn't feel trusted," Santorelli said.
The benefits of cat grooming can be pretty significant for the feline, including relief from allergies and a shorter, cleaner and sleeker coat.
Ongoing education is important to Santorelli's development as a pet groomer. Having graduated from the now-closed Academy of Animal Arts in New Jersey with 500 hours of hands-on training and classroom work, Santorelli said it's important to attend regular industry trade shows, participate in webinars and seminars and stay up to date on the newest pet care products.
"You have to be constantly educating yourself, knowing the different breeds, the condition of their coats, knowing their temperaments and being able to apply that knowledge in the form of quality pet care," Santorelli said.
Santorelli, who works closely with local veterinarians and donates services and products to the Briarcliff SPCA, is a firm believer in grooming an animal to fit its lifestyle and the lifestyle of its owner.
"Knowing what the dog should look like and then applying that to the lifestyle of the family is crucial," she noted.
Grooming sessions for dogs take at least two to three hours. Puppies are eased into the routine slowly and as they get older receive the same services as the older animals.
Pawfection is located at 55 Babbitt Rd. It is open Tuesday through Friday, 8 a.m. to 5 p.m. and every other Saturday from 8 a.m. to 4 p.m. Cat grooming is available on Thursday evenings after 5 p.m.
To book an appointment, call Santorelli at 914-242-8422 or email pawfection1@aol.com.  Like Pawfection's Facebook page at https://www.facebook.com/pages/Pawfection-Pet-Grooming-Boutique/128859583799874.ac.