Business Profiles: Mix It Up, White Plains
We are part of The Trust Project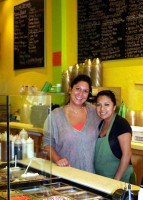 In Manhattan they're plentiful, but try finding a "salad boutique" in Westchester that lives up to the eclectic Mix It Up in White Plains and you'll likely come up empty-handed.
The vivacious owner, Samantha Young, carries a variety of scrumptious salad fixings, dressings, soups and home baked goods, but it's her bubbly personality that emanates throughout the store, and it's a quality that can also be found in her trusted staff, most of whom have been with her since the store's opening in 2004.
A former special events coordinator who was responsible for launch parties in some of New York's finest hotels and restaurants, as well as planning events such as the VH1 fashion awards party for Vogue magazine and Gloss.com, Young was already comfortable working in an industry where no two days were the same. In fact, she regularly rubbed shoulders with prominent players in the fashion, financial and restaurant industries, enjoying every minute of what was an exhilarating career.
Her segue into the retail food business was one that happened rather quickly. While working in Manhattan, Young noticed a growing crop of create-it-yourself salad bars throughout the city, especially in the Union Square section where she worked.
A native of Mount Vernon, Young hadn't seen anything remotely similar to it in Westchester in the early 2000s and thought it would be an excellent niche business to establish. She searched the county for a suitable location, eventually finding it on Mamaroneck Avenue in the heart of White Plains.
She remembers, however, that downtown White Plains was very different in 2004 to the vibrant commercial hub it has become today. Taking a chance that such a business would appeal to health conscious customers, Young called her new venture a "salad boutique." The catchphrase is also taken from her love of fashion and the years she spent studying at the Fashion Institute of Technology in New York City.
"I wanted something where customers could make their own salad, but also order a sandwich, a Panini, wraps, soups and burritos," explained Young, who was comfortable working with executive chefs in the creation of menus for various parties and events, in addition to working with various purveyors. "Here you can make it to your own liking. You really can't go wrong if you make something you want."
For a $6.95 personal salad mix, customers can choose from three or four different types of lettuce, four mix ins (additional mix ins cost $.50 each) and a dressing of their choice. The mix ins at Mix It Up are diverse. They include beets, broccoli, celery, chick peas, Chinese crunchy noodles, chopped egg, grape tomatoes, red and green peppers, as well as cheese, meat and nuts and fruit mix ins.
Mix it up designer salads cost a little more, with lots of different varieties to choose from. They include the city center salad, a mix it up total veggie salad, a spinach salad, Young's Asian salad, and more, all fresh ingredients from local farms. "If, for example, the baby arugula is not fresh on any given day, I'm not going to put it out," said Young. "I won't sell anything that's not fresh."
A selection of boutique dressings like the creamy balsamic vinaigrette, grandma's oil and vinegar, a carrot ginger dressing, the low fat red wine vinaigrette, together with designer burritos and a selection of soups, sweets and beverages have all proved popular with Mix It Up's customers, said Young, most of whom come from surrounding office buildings.
Young, a Bronx resident, said there were some who didn't think her business idea would work, but in the eight and a half years she's been in White Plains, Young said it has been positive. "It was not my ultimate goal to be a business owner," added Young, who never imagined she would still be where she is today. Still, it's a business she loves, even if it is an all-consuming one. "I think my social skills and my ability to work as a team player have helped me a lot," said Young. "It's what I teach my employees."
Mix It Up is located at 72 Mamaroneck Avenue in White Plains. It is open Monday through Friday, 11 a.m. to 6 p.m. To order, call (914) 428-3111. To learn more about its catering service, visit www.mixitupsalads.com.
Colette Connolly is a copywriter and p.r. expert. She owns Connolly Communications, which is based in Bronxville, New York. Colette specializes in providing content-rich, SEO-optimized press releases, articles, newsletters, brochures, and customer success stories.